Saturday, September 19, 2009
I feel completely lost on how to make up for not posting for SO long. It's been an interesting few months, and I'm still trying to get into the routine of cooking, taking pictures, cleaning, working and everything else. I realize that the last few posts have been apologies for not posting regularly and this one is no different.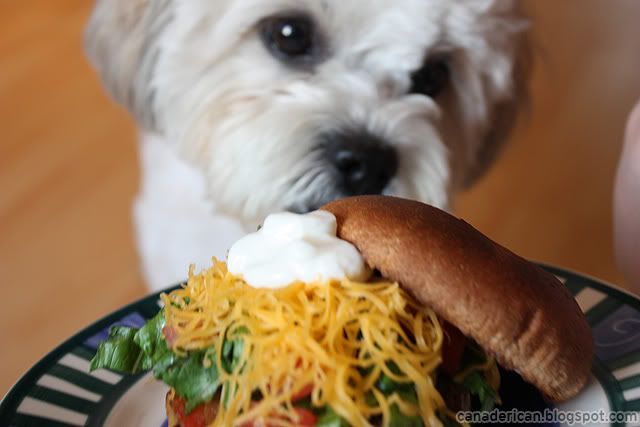 To make up for it, I offer a picture of my pup gazing at a taco burger... along with a life update, pictures and recipes from Daring Bakers and Daring Cooks.


First of all, I think I've mentioned before that I managed to get a full-time job right after I graduated from university in June. It was a front desk reception/admin assistant position in a health care facility, which was great. Well, towards the middle of July, I was offered a promotion to administrator... of course I jumped at the chance. So from mid-August on, I've been learning new reports and protocol for my new position. Not that I'm making excuses for falling behind, but after not working for five years, I'm having a rough transition period to the "real world". lol I've been interviewing people this week as my replacement for front desk, and most people are shocked at the rapid movement you can have! :)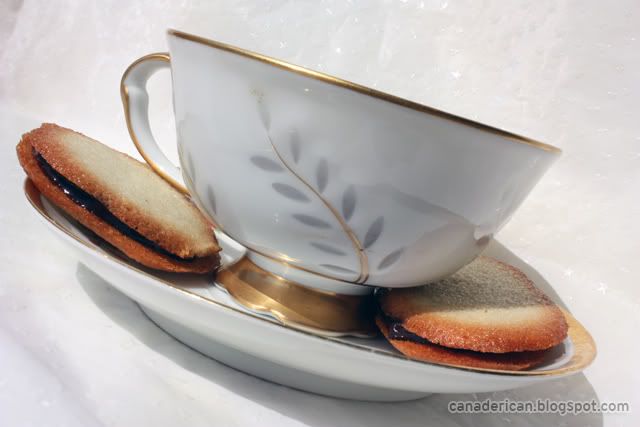 Now, on to what you're actually here for, the FOOD! Admittedly I have lacked the ambition to do the Daring Bakers' challenges for August and September (although I might attempt the September challenge next weekend). The last challenge I did were the Milan cookies from July, which were absolutely amazing, especially with coffee. I have no need to buy cookies anymore. lol Seriously, these were SO good, SO easy and inexpensive to make. One warning: when the recipe says to space the cookies apart because they spread... booooy do they SPREAD! My first "batch" made one gigantic cookie that I was too stunned to even photograph! A giant cookie thanks to Nicole from Sweet Tooth for picking these as part of the challenge. Mallow cookies were the other half, but I'm slightly intimidated by making homemade marshmallow. :-x


Daring Cooks' challenge for August was Rice with Mushrooms, Cuttlefish and Artichokes... at least, that was the original recipe. lol If you've visited before, you know the Hubs abhors seafood... and mushrooms... and artichokes. Needless to say, I got a little creative with ingredients. Another curveball I had to deal with was the fact that Hubs was told to cut back on his intake of more acidic ingredients, like tomato. So, there's a tomato-based version with green bell peppers, mushrooms and chicken for myself and the mother-in-law, and a white wine-based version with potatoes and chicken for the Hubs. If I'd thought about it, I probably would have written down what I did with the white version... if I make it again, I'll write it down and share with the class! :) Thank you a million times over to Olga of Las Cosas de Olga for giving such a great challenge that was so easily adaptable!

It's with a heavy bloggers' heart that I share this: I may have to politely step away from my beloved monthly groups, as I can't seem to keep up the way I'd like to. Hopefully I can come back once my daily routine is set more solidly. I plan to keep cooking and baking and posting as often as I can but I don't like feeling like I've let down a group of people by not following through with a previous commitment. :( Daring Bakers, Daring Cooks and Barefoot Bloggers have been such gracious and wonderful groups that I've learned so many things from and hope to learn more from in the future. Thank you to everyone for accepting me with my punctuality faults and for teaching me loads of invaluable information.

at 11:45 PM