Sunday, June 28, 2009
Like always, I've slacked off in keeping up with my poor little blog, but for good reason! My university graduation was 3 weeks ago, followed by starting a new job, so life has been off track and unscheduled for too long... Being that my weekends are the time I'll have to test out my recipes, hopefully I can catch up on everything I need to!

One major difference that I hope you guys will notice is a change in the quality of pictures-- my lovely Hubs surprised me on my graduation day with a Canon XSi digital SLR camera! Needless to say, we've taken a MILLION pictures with it but none of food yet. LOVE. If I could fit it my pocket and take it everywhere, I would. It's definitely pulled out my creative side, and I hope to explore my old hobby a bit more now. :-D

Another major change is that my blog layout is going to change slightly in the next little while. I may or may not be getting a domain just for this little space but we'll see about that yet. :)

On to the missed recipes, I made half recipes of the BB recipes to avoid having to worry about whether Hubs would like it, because I knew my mother-in-law and I would enjoy all of them! So first up is June's DB challenge- a Bakewell Tart... or Pudding (it's apparently a debated name!) The June Daring Bakers' challenge was hosted by Jasmine of Confessions of a Cardamom Addict and Annemarie of Ambrosia and Nectar. They chose a Traditional (UK) Bakewell Tart... er... pudding that was inspired by a rich baking history dating back to the 1800's in England.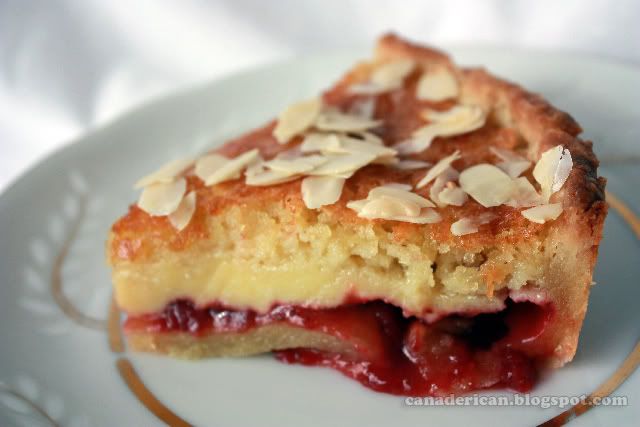 This tart was definitely a bit difficult for me. The recipe warned of how curdled the frangipane would look but it still made me quite nervous. lol The frangipane layer had a definite egg-y flavor to it, but balanced with the triple berry jam that I chose and the shortbread crust, this tart would be ah-MAZING with tea on a late fall afternoon. Even the Hubs enjoyed it, after picking off the flaked almonds on top. :-D I may have to try this with Nutella and maybe orange curd... mmm or maybe Nutella WITH orange curd...

Next up, Barefoot Bloggers' June challenges- Gazpacho and Curried Couscous.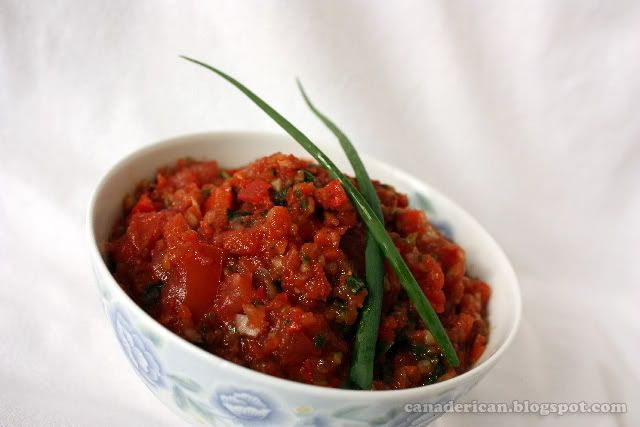 Honestly, I've never had gazpacho before so I really have nothing to compare it to. The closest comparable food I've had is pico de gallo and that's only for texture! The white wine vinegar was a great mellow flavor in the background, but I found the red onion a teeny bit overpowering, and that's coming from someone who LOVES red onion. If I were to make it again, I'd probably cut down on the onion and add some zucchini and more red pepper... maybe some orange bell pepper? This would probably also taste fantastic if you used roasted red pepper and fire-roasted tomatoes. YUM!


The curried couscous wasn't entirely my cup of tea. I omitted the almonds and raisins because a- my mother-in-law isn't a fan of sweet & savoury together and b- I wasn't keen on going to the grocery store just for those two items. So essentially, I'm lazy. lol

I plan to make the Daring Cooks' June challenge of Chinese dumplings and dark chocolate cake balls for a pot luck at work in the last week of June, so watch for that in the coming week and also go check out the other Daring Bakers and Barefoot Bloggers for their posts about these recipes! YAY! :-D


at 3:01 PM