Monday, May 4, 2009
Well, yesterday was my blog's first birthday! I can honestly say this is one hobby that has turned into a serious passion for me- I love talking to other bloggers and learning new photography techniques and presentation tips... this past year has been a great learning experience and I can't wait to learn more!

I know I did a poll on what I should make for Southern Eh?'s birthday, but I've decided I'm going to use the poll results a bit differently. Cupcakes got the most votes, for obvious delicious sweet-tooth-killing reasons, followed by Thai curry, Persian stew and Gumbo. So rather than only doing cupcakes as the winner, I thought I'd work from the items that got less votes up to the winner...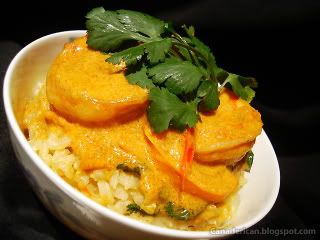 First up- Thai curry!!

This is my first time making a Thai curry at home, so I was admittedly a bit timid. I've only ever had Pad Thai and another chicken & veggie curry that I can't even begin to spell properly. lol I wandered the Asian foods aisle of my favorite grocery store for a good 20 minutes, reading the labels of almost every single jar of red curry paste. I'd done a bit of online research about "authentic" flavors and wanted to make sure I found something that had everything in it- Kaffir lime, galangal, etc.

I make no claims as to how authentic the flavors of this curry are, but it was just spicy enough for me (meaning the spice isn't all over your mouth and on your tongue), and was absolutely delicious. I'm always open to any suggestions and constructive criticisms, so please drop a line and say hi! :)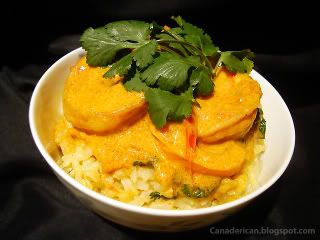 Red Thai Shrimp Curry

1 lb. jumbo shrimp (or jumbo prawns), cleaned, deveined & shells removed
3 Tbsp. red curry paste
1 can coconut milk, shaken (I used just shy of 1 can, but it thickened considerably, so you may want to use the whole can)
1/2 red bell pepper, sliced
1/2 green bell pepper, sliced
1/2 orange bell pepper, sliced
1 Tbsp. lime juice
Handful of clean cilantro leaves
1 c. brown rice
2 c. water (or a combination of chicken or vegetable stock with water)

For the curry:
1. "Melt" the curry paste in a medium-sized pan over medium heat, stirring around to loosen. Add coconut milk and bring to a simmer.
2. Add peppers and simmer for 3-4 minutes, stirring occasionally., until peppers soften slightly
3. Add shrimp and cook for 2-3 minutes per side, stirring gently
4. Add lime juice, and stir. Turn off heat. Stir in some of the cilantro.

For the rice:
1. Toast rice in a pot over medium-high heat, for 1-2 minutes, stirring constantly.
2. Add liquid and bring to a boil. Lower heat to medium-low to bring it to a simmer. Cover and cook for 45 minutes.
3. Remove lid and fluff rice with a fork.

Spoon the curry over the rice and garnish with remaining cilantro leaves. Try your hardest not to eat the entire pot on your own. :-D

Next up... Persian stew!!