Saturday, May 2, 2009
I'm a huge huge huge Mexican food fan. HUGE. Anything smothered in melted cheese with chili powder, cilantro or lime will make me almost as happy as anything covered in dark chocolate sauce. lol Although there's no melted cheese the simple fajitas I made for dinner last night had all of my favorite Mexican flavors going on.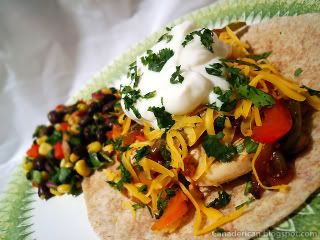 I'm sure Rick Bayless would choke if he saw my bastard child of a fajita and enchilada, so I hope this makes up for that delicious insanity.

Simpler was the key motivation. But like every other part of my life, I had to complicate matters. I had WAY too many chicken breasts defrosted so I ended up making fajitas AND a Thai-inspired curry (that will probably be posted on Monday). :-D I still have some left, and plan to make yogurt-marinated kabobs and a Persian chicken salad called Salad-e Olivieh.

Like most things I make, I didn't think to measure anything as I went, so all the ingredient quantities are approximate.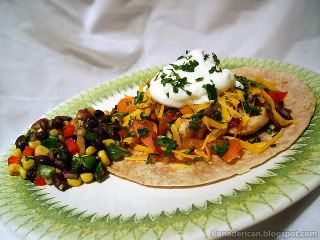 Fajitas!

3 chicken breasts, sliced into 1/2" strips
1 green bell pepper, sliced into 1/2" slices
1 red bell pepper, sliced into 1/2" slices
1 orange bell pepper, sliced into 1/2" slices
1 red onion, sliced
Juice of 1 lime, divided in half
1 tsp. salt
1/2 tsp. pepper
2 tsp. ground cumin
4 Tbsp. olive oil, divided in half
8 corn tortillas (or small whole wheat tortillas)

To garnish:
Shredded cheese (Monterey Jack or sharp Cheddar)
Sour cream
Cilantro, chopped
Salsa

1. Heat half the oil in a non-stick pan over medium heat. Toss in chicken "tenders", and cook for 2-3 minutes per side. (It's ok if they stick a tiny bit, because those bits will be picked up by the peppers and onions.) Add cumin, salt and pepper. Toss to coat. Turn off heat and add one half of the lime juice. Remove chicken to bowl or plate.

2. Add the other half of the oil to the pan, turn up the heat to medium-high heat. Throw in the peppers and onions, and let them soften and caramelize slightly.

3. Heat 2 tortillas in the microwave by putting them on a plate between 2 paper towels for 30 seconds.

4. Place 2-3 chicken strips in the middle of a warm tortilla, top with pepper/onion mixture, and garnish with any of the condiments listed above!

One of my new favorite side dishes for any type of Mexican or Mexican-inspired dinner is black bean and corn "salad". Besides being insanely simple and cheap, it's filling, delicious, and you can customize it to your family's tastes! Even Hubs eats it, and he's beyond picky, so you know it has to be good. :)

Black Bean & Corn "Salad"

1 can (19 oz/540 mL) black beans, drained and rinsed
1 can (19 oz/540 mL) whole niblet corn, drained and rinsed
1/2 red onion, diced (similar size to beans & corn if you can)
1/2 red bell pepper, diced
1/4 c. chopped cilantro
Other half of the lime juice
1 tsp. salt
1/2 tsp. pepper
2 tsp. cumin
1 Tbsp. chili powder
2-3 garlic cloves, grated (optional)
1-2 medium tomatoes, diced (optional)
1/2 jalapeño, diced very tiny (optional)

1. Mix everything in a big bowl. Cover with plastic wrap and set in the fridge until ready to eat. The longer it sits, the tastier it is!