Thursday, April 9, 2009
Wow. I cannot believe that I'm 25 today. Yes, I know most people would scoff, but I'm not where I thought I would be at 25, so it's been a weird day. However, any and all birthday wishes are welcome. :-D

Another great thing about today is that it's the first Barefoot Bloggers' recipe for April!! The wonderful Kenzie of Kenzie's Kitchen chose Ina's Chinese Chicken Salad, and I cannot sing enough praises for it. I've made it TWICE in the past week and it's disappeared before sunset each time!



Although, as it was being devoured today by other people in the research lab I volunteer in, the flavors are more Thai-influenced rather than Chinese. Regardless of where the flavor profile comes from, it is delicious, super easy, and can feed a crowd. I made a 1/2 recipe the first time, for my mother-in-law, sister-in-law and myself and we each had a couple of servings. I made the full recipe this morning for my lab-mates, and it served 8 people, who each had at least 2 small bowls.

The first time I made this recipe, I was feeling adventurous and had a craving for Asian-inspired recipes, so I made Garlic Scallion Noodles from Steamy Kitchen to go with the chicken salad.

O. M. G. The combination of flavors between these two recipes is out of this world. My only deviation was to add some soy sauce to the noodles, since they were a bit too sweet for a savoury dish (in my humble opinion). Once the soy was added though, it took all the will power I had not to eat the entire pan. I kept performing "quality control tests", just to make sure they were good and I wasn't just blinded by hunger goggles.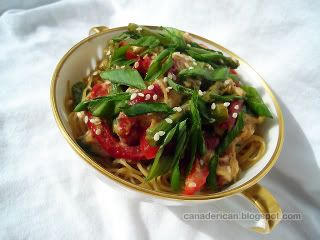 Chinese Chicken Salad (by Ina Garten)

4 split chicken breasts (bone-in, skin-on)
Good olive oil
Kosher salt
Freshly ground black pepper
1/2 pound asparagus, ends removed, and cut in thirds diagonally
1 red bell pepper, cored and seeded
2 scallions (white and green parts), sliced diagonally
1 tablespoon white sesame seeds, toasted

For the dressing:

1/2 cup vegetable oil
1/4 cup good apple cider vinegar
3 tablespoons soy sauce
1 1/2 tablespoons dark sesame oil
1/2 tablespoon honey
1 clove garlic, minced
1/2 teaspoon peeled, grated fresh ginger
1/2 tablespoon sesame seeds, toasted
1/4 cup smooth peanut butter
2 teaspoons kosher salt
1/2 teaspoon freshly ground black pepper


1. Preheat the oven to 350 degrees F. Place the chicken breasts on a sheet pan and rub with the skin with olive oil. Sprinkle liberally with salt and pepper. Roast for 35 to 40 minutes, until the chicken is just cooked. Set aside until cool enough to handle. Remove the meat from the bones, discard the skin, and shred the chicken in large bite-sized pieces.

2. Blanch the asparagus in a pot of boiling salted water for 3 to 5 minutes until crisp-tender. Plunge into ice water to stop the cooking. Drain.

3. Cut the peppers in strips about the size of the asparagus pieces. Combine the cut chicken, asparagus, and peppers in a large bowl.

4. Whisk together all of the ingredients for the dressing and pour over the chicken and vegetables.

5. Add the scallions and sesame seeds and season to taste. Serve cold or at room temperature.

Check out the other BB members for their take on Ina's recipe, since other people's experiences may have been different! :)



at 8:16 PM