Monday, April 27, 2009
Ok, I'll admit it- I'm wasn't a HUGE cheesecake fan. I'd eat it if I was in a certain mood, but I didn't go out of my way to order it for dessert if we were out at dinner. This makes it a bit funny when my family makes special requests for my double-layer pumpkin pie cheesecake at Thanksgiving, because they always look at me funny when I say I don't want any. lol

Thanks to our brilliant host, my entire outlook on cheesecake has changed. The April 2009 challenge is hosted by Jenny from Jenny Bakes. She has chosen Abbey's Infamous Cheesecake as the challenge. And boy what a choice it was.


Creamy. Sweet. Slightly tangy. Perfectly smooth on top. This recipe has completely converted me to the "dark side". It took massive amounts of will power to not eat half of the pan for breakfast.

Although, we did enjoy a generous portion for breakfast anyway. :-D

The texture was amazing. I chose simple flavors, since I wasn't feeling particularly creative and I wasn't a cheesecake person. I used an extra tsp. of vanilla extract and Kahlua for my liquer choice, and the slight coffee flavor blended well with my chocolate cookie crust.


As a side note, I tried to "wing it" and make an Oreo crust, which I've never done before. Too many cookies with not enough butter quickly turned into too much butter with not enough cookie crumbs. I now have a container with roughly 3 cups of Oreo/butter/cocoa powder liquid sitting on my counter until I can figure out something to do with it.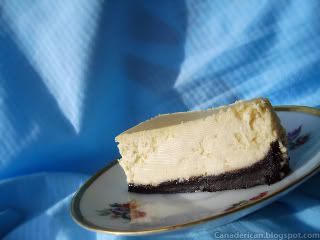 Make sure to check out other Daring Bakers' blogs for wildly creative twists, both savoury and sweet, on this incredible recipe. And definitely visit Jenny Bakes for the recipe. You won't regret it!
at 3:42 PM