Thursday, April 2, 2009
I feel like a complete dolt for not posting sooner, but life has just taken over at the moment. Between getting over being sick, dealing with the last paper and tests of my undergraduate college career (WOOHOO!), and finally having something of a social life, my poor little corner of the web has gone neglected. NO MORE! lol I have a post with a couple of Barefoot Blogger recipes I did on the deadline but didn't get to post about, plus a little extra about Persian New Year (Norooz) that should have been put up 2 weeks ago!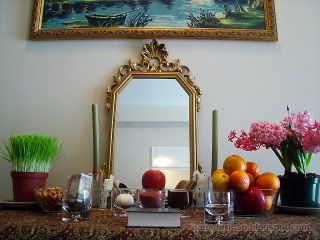 So a belated Norooz Mobarak... from my sad little haft sin.

As I've talked about before, Hubs and his family are Persian while I'm about as white as you can get. We have a very interesting mix of traditions and one of them includes celebrating Norooz, the Persian New Year which happens on the first day of spring. The major element of celebrating is having a proper "haft sin", which is a table covered in a sofreh (Farsi for "tablecloth") topped with seven items starting with sin, S in the Farsi alphabet. Typical items include:

Sabzeh, green wheat grass, on the left of the table, which signifies rebirth
Sekkeh, usually coins, the Persian money sticking out the glass towards the front, representing wealth, which we could always use more of, right? lol
Sir, garlic, to the left of the apple, which symbolizes medicine
Sumac/Somaq, dried ground sumac berries, in the glass in front of the apple, which signifies the color of the sunrise
Sib, apple, behind the sumac, representing health and beauty
Samanu, sweet dark pudding made from wheat berries, in the glass to the right of the apple, which stands for affluence and power
Serkeh, white vinegar, in the glass in front of the fruit, which symbolizes patience and age
Sonbol, hyacinth plant, on the right of the table
Senjed, dried oleaster fruit, which represents love

A mirror is placed in the center to represent cleanliness and honesty, with candles on either side for enlightenment and happiness (there is usually 1 candle for each young person in the family). The Qur'an is placed there to show spirituality.

There were supposed to be a goldfish in a bowl and decorated eggs (similar to Easter eggs!), but they symbolize life and fertility, and I don't think we need to "promote" fertility any time soon. lol Hubs and I have been married for 4 years, and we still aren't quite ready for kids. :-D

Tomorrow is Sizdeh Bedar, Farsi for "thirteen to out"- it is the 13th day of the New Year festival, and everyone is supposed to be outside (out of the house at least) from sunrise to sunset. At the end of the day, the sabzeh is taken from the haft sin and thrown into a body of water to throw "demons" out of the household. Maybe this year, my sister-in-law will tie some of the strands together, since young unmarried women are supposed to do this to show that they want to be married before the next Sizdeh Bedar! Hehehehehe... Or maybe I just want to be a bridesmaid. lol

The food for Norooz wasn't entirely exciting, plus it was inhaled quickly, so I didn't get any pictures of it. The traditional foods are white fish with sabzi polo, which is white basmati rice cooked with green herbs, but we also had ghormeh sabzi, which is a meat stew with red kidney beans and cooked greens (cilantro, parsley, onion, spinach, fenugreek, etc.), and various vegetables.

If you want to know more about Norooz, visit Wikipedia and read about it! :) Even President Obama had a Norooz greeting, which I thought was pretty nifty.

Now, on to the Barefoot Bloggers recipes that I've gotten so behind on... I already posted about the Sauteed Broccolini, but admittedly I made it with baby broccoli. Broccolini is incredibly hard to come by, so baby broccoli was the next best thing!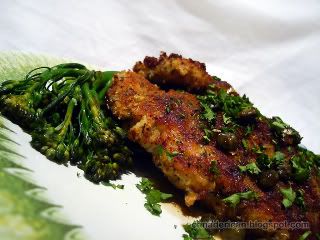 I can't wait to use this recipe over and over again, and it's such simple flavors that can be easily translated to other veggies! Thanks to Mary of Meet Me in the Kitchen for picking it as the other March BRC.

The March BRC that I picked has been more elusive than the broccolini... I've made the Brownie Pudding THREE times, and every time it disappears before I can get a picture. I even made it on Monday, in hopes of getting a picture of it, and it's already gone! lol If that's not a testament of how good it is, I don't know what is. The top is meringue-like, the underneath is like brownie batter- thick, rich, gooey, sweet. If you have PMS, make this, and just eat it straight from the pan. Trust me.

The last Barefoot Bloggers recipe for March was chosen by Anne of Anne Strawberry, and she lovingly chose Tomato & Goat Cheese Tarts.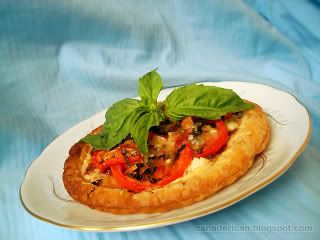 Oh. My. God.

These were so delicious. I was tempted to make a short cut and just cut my puff pastry into squares, but I followed instructions and made 6 in. circles. I can't tell you how many people the next day said my "little pizza" looked amazing, and they were gobsmacked that I made it myself! lol The only substitutions I made was that I used Asiago instead of Parm on the bottom (still used shaved Parm on top) and I used roma tomatoes, which means I used 4 slices of tomato per tart. I think it really added to the complexity and made it a teeny bit more substantial. Or maybe I'm just hungry while I remember how tasty these were... Heh.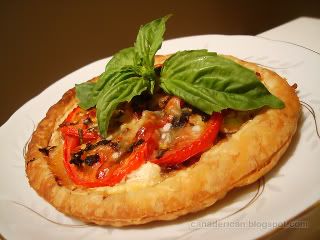 So after this ridiculously long post, if you're still reading, I swear I will post more often. My birthday is next week, so I've got lots of stuff to make! :-D

at 10:31 AM