Thursday, March 12, 2009
Well it's the 2nd Thursday of March, which means it's time for the first March Barefoot Bloggers recipe! The Chicken Picatta recipe was chosen by the lovely Lindsey of
Noodle Nights and Muffin Mornings
... and what better to go with it than the February Bonus Recipe Challenge recipe of Sauteed Broccolini, chosen by the amazing Mary of
Meet Me in the Kitchen
. I don't think two recipes were ever so perfectly matched!!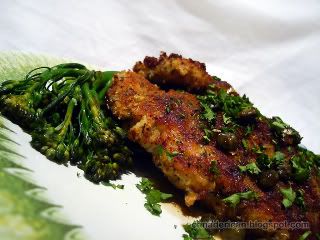 I had a couple of issues though...

One? I just made a version of chicken piccata last week!! Therefore, I had no white wine left. :( *plays tiny violin* So I had to substitute with low-sodium chicken stock. However, I think this may have cut down on an issue some of the other BB members had with the sauce being too lemon-y... the chicken stock (and the sweet Persian lemons I used) kept the acidity low, so I didn't find it too tart.

Which is amazing because I am NOT a tart person... me + lemon= love/hate relationship

The other issues I had were really minor. I love Ina but chicken piccata is supposed to have capers. So I had to add capers to keep from throwing a fit. :-D I also had the hardest time finding broccolini!! I went to 2 produce markets and 2 grocery stores in search of it before I finally found wildly pricey "baby broccoli". Needless to say, 1 bunch of "baby broccoli" only amounts to six servings if you only serve one or two stalks per person. I ate more than half of the bunch just after I finished cooking them, so at least 3 theoretical dinner guests would have been left veggie-side-less.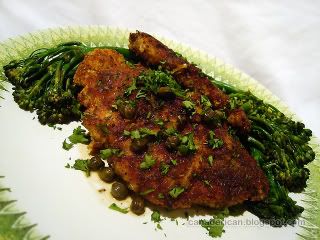 Check out the other Barefoot Bloggers to see what others thought! If you want to try the recipe for yourself, they're both available on Food Network here and here here. :)
at 8:38 PM