Tuesday, March 17, 2009
Repeat after me- Brown bananas are NOT a bad thing. Sure, they make the entire kitchen smell like banana... sure, they magically produce fruit flies, the most annoying insect known to man. But trust me, banana bread makes those worth it. Too bad my grandmother kept her promise and never wrote down that recipe.


However, The America's Test Kitchen Family Baking Book rescued me once again! This recipe is such a baking staple, and the Baking Book gave me a recipe that is going to be used in our household for a loooong time.

The end result is so soft, and not too banana-y, not too sweet. I can't even imagine how it would taste with chocolate chips mixed in. Oh oh, or toasted and then slathered with butter then topped with cinnamon & sugar.

Oh my... I think I may have to make this again tonight. I'm drooling like a goober. If you want to try it for yourself, check out the book or see the recipe below! :)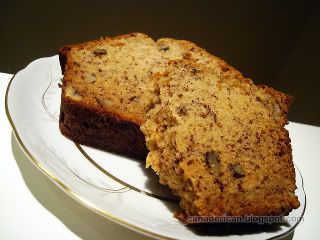 Banana Bread (from America's Test Kitchen Family Baking Book)

2 c. all purpose flour
3/4 c. sugar
3/4 tsp. baking soda
1/2 tsp. salt
3 large, overripe bananas, mashed well (roughly 1.5 cups)
6 Tbsp. unsalted butter, melted & cooled
2 large eggs
1/4 c. whole or low-fat plain yogurt (this would probably be tasty with vanilla yogurt!)
1 tsp. vanilla extract
1/2 c. walnuts, chopped (optional)
1 tsp. ground cinnamon (optional)

1. Preheat the oven to 350°F. Adjust a rack to the lower-middle position in the oven. Grease an 8.5" x 4.5" loaf pan.
2. Whisk together flour, sugar, baking soda and salt (and cinnamon, if using). In another bowl, whisk together mashed bananas, melted butter, eggs, yogurt and vanilla. Fold wet into dry with a rubber spatula until just combined. Fold in walnuts (after tossing with a 1/2 tbsp. of flour, if using).
3. Scrape into loaf pan and smooth out the top. Bake until golden brown, rotating halfway through baking, about 55 minutes (I found that it actually took closer to 1 hour and 15 minutes), or until a toothpick inserted comes out with a few crumbs attached.
4. Let cool in the pan for 10 minutes, then turn out on to wire rack and cool for an hour before cutting and serving.