Saturday, February 28, 2009
... and my Hubs of course. At least that's what I told him when I served this for Valentine's Day. lol

The Daring Bakers challenge this month could not have been more perfect for me. As I've said over and over again, I'm an unapologetic choco-holic, and not just at "that time" where Hubs throws the box of chocolate at me and runs. :-D When I saw "flourless chocolate cake" was picked, I thought I'd died and gone to heaven. The challenge for me? Not inhaling the batter would typically be the right answer...

The challenge this time was to make ice cream to go WITH the cake! An ice cream maker is one piece of equipment I still don't own! Boy did I have fun with this...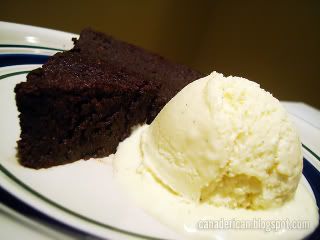 For the required bit to reaffirm my love and devotion for Daring Bakers : The February 2009 challenge is hosted by Wendy of WMPE's blog and Dharm of Dad ~ Baker & Chef.We have chosen a Chocolate Valentino cake by Chef Wan; a Vanilla Ice Cream recipe from Dharm and a Vanilla Ice Cream recipe from Wendy as the challenge.

The reason I joined Daring Bakers was to try new things in the kitchen. Well, this certainly put me in a new realm- I learned that egg whites are ridiculously tempermental, and that even I, a professed choco-holic, have a limit as to how much chocolate I can take. lol Because I chose super dark chocolate for the cake, I don't think I could have eaten it without the accompanying ice cream! The cake was super rich and bitter (but the good kind of bitter), and I couldn't even finish a whole piece!

For the ice cream, I used Dharm's recipe, and it turned out so creamy and rich, even without an ice cream maker! It turned out so well that I want to start experimenting with different flavors for summer!

So I guess the take home messages for today- don't overwhip your egg whites, and MAKE THE ICE CREAM. Trust me.

Check out the other DB-ers' photos and thoughts on this month's challenge...

And just to provide a bit of entertainment, my pup decided he wanted to be shipped to China in the box that our new blender came in. He got comfy by curling up in it.


at 12:00 AM