Saturday, February 14, 2009
Last summer, I was feeling inspired after watching quite a few TV chefs make homemade vinaigrettes. Being a newbie cook with little creativity, I thought this was the perfect chance to play a bit. I had just discovered dried fenugreek, which is one of my favorite dried herbs, and was trying to put it into everything I possibly could.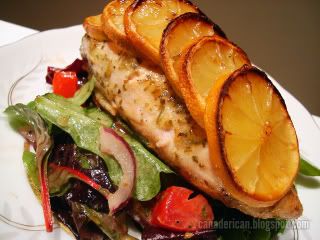 Not to mention, Hubs and I were dying to try out our new barbecue and the grilled version of this chicken is just amazing. If you have nice enough weather right now, try making this into kabobs with red onion, peppers, and mushrooms, basted with leftover dressing.



Mediterranean-inspired Dressing:
4 tsp. dijon mustard
2 Tbsp. lemon juice
2 tsp. dried oregano
4 tsp. dried fenugreek
1 tsp. salt
1 tsp. pepper
4 tsp. honey
1/2 c. olive oil

For the marinade:
1/2 red onion, rough chop
3 garlic cloves, smashed
2-3 lemons, sliced 1/4" thick
1 lb. chicken breasts

For chickpea salad:
1 (28 oz) can chickpeas, drained & rinsed
3 roma tomatoes, chopped
2 celery stalks, chopped
1/2 red onion, chopped

1.) Mix the dressing ingredients together. Place 1/3 into a medium sized bowl and mix in the garlic and onion. Place chicken breasts into marinade, cover and refrigerate for at least 2 hours.
2.) In another bowl, mix the chickpeas, tomatoes and celery with another 1/3 of the dressing. Refrigerate until chicken is cooked. (The longer it sits, the more the chickpeas will soak up the dressing.)
3.) When you're ready to cook the chicken, preheat your oven to 425°F. In the bottom of an 8x8" baking dish, drizzle a small bit of olive oil. Remove the chicken breasts from the marinade, and arrange in dish. Layer each breast with a single, overlapping layer of lemon slices.
4.) Bake for 50-55 minutes, uncovered (you can poke into the edge of one of the breasts, and the juices should run clear). Remove from oven and let cool.
5.) Serve with chickpea salad and mixed greens salad dressed with remainder of dressing.

Sorry for not getting a picture of the chickpea salad, but it didn't last long enough for me to get any! lol Everyone devoured it!

at 12:00 AM