Monday, February 2, 2009
One thing that I was told early in my cooking adventures was that it's always better to master a handful of great basic recipes than to be able to make lots of mediocre dishes. This has stuck with me, and it has definitely influenced how I cook everyday. It's also part of the reason why my posts aren't always regularly spaced- most of the dishes showcased are those that are tried-and-true or ones that recieved rave reviews from the family. :)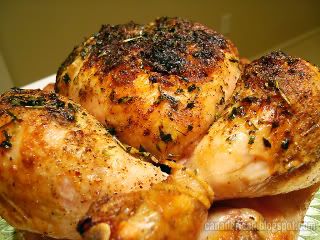 One of the best basic dinners to master is a good roasted chicken with roasted vegetables, cheesy roasted potatoes, steamed broccoli and a good risotto. I realize this sounds like a HUGE meal, so I won't babble on about it in one post. For now, roasted chicken and a revisit to risotto; next cheesy roasted potatoes and roasted vegetables will be in the spotlight.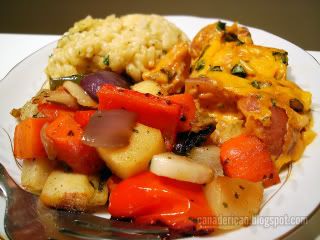 To make a really juicy, flavorful chicken, brining is a fantastic method. For those who don't know (which I'm sure most of you do), brining is simply "soaking" meat (usually turkey or chicken) in a solution of salt water. It's similar to marinating, but it adds more subtle flavors than marinades, in my humble opinion. For my brines, I tend use equal parts of salt and sugar, lemon juice (and the lemon halves), lime juice (and the lime halves), fresh orange juice (I think you know what goes here), garlic, fresh herbs like thyme or oregano and white wine if I have them, and some fresh black pepper.

The actual cooking method I've learned to love is something of a combination of Thomas Keller's simplistic approach and Ina Garten's Lemon and Garlic Roast Chicken.


Roasted Chicken

1 12-13 lb. chicken, brined for at least 2 hours
1 lemon, sliced
Fresh thyme or oregano (optional)
2 Tbsp. olive oil
2 tsp. salt
1 tsp. pepper
2 tsp. dried fenugreek

1. Preheat oven to 450°F.
2. Line roasting tray with lemon slices. (Top slices with the fresh herbs- if you're using them.) Place chicken on top of lemons, sprinkle chicken with salt and pepper and pour on the olive oil
3. Tie the chickens legs together and roast the bird in the oven for 50-60 minutes.
4. Sprinkle dried fenugreek over chicken and baste the skin with the juices in the bottom of the pan. Let the chicken rest for 20 minutes.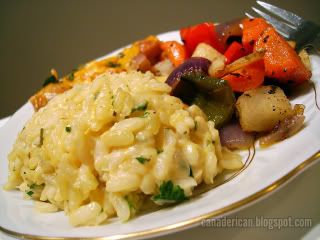 The risotto this time around is slightly different from the risotto I posted ages ago. Instead of white wine and chicken stock, I chose to use a mix of chicken and vegetable stock, parmesan cheese, herbed goat cheese leftover from a tart I had made, and mixed in chopped fresh parsley. No fancy asiago, no asparagus, just pure unadulterated cheesy goodness.

Have I mentioned we like cheese in this house? Just wait until you see the cheesy roasted potatoes!!