Tuesday, February 3, 2009
As promised, I'm dedicating this entire post to two of my favorite sides- roasted vegetables and cheesy roasted potatoes. I mean really, how can you go wrong when smothering anything in cheese? :-D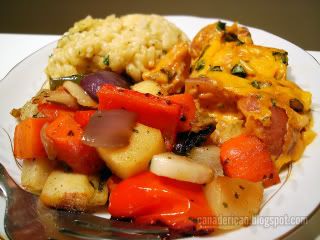 See that plate? That was my dinner and lunch for two days. I had some protein on the side (because to be entirely honest, I make roast chicken and I'll eat it but it's not my favorite), but look at that plate... just makes your mouth water!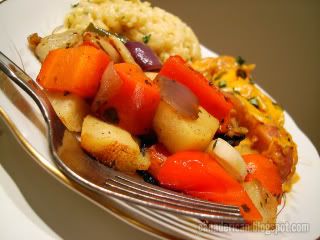 Roasted vegetables, like the chicken, are entirely personalized and not really "recipe", in my opinion. You can change the vegetables, the spices, the fat they roast in, the ratios... The vegetables used this time around are just what I happened to have hanging around in the fridge at the time. I used dried fenugreek in these too, so the flavor from the chicken was carried over to these sweet little gems.
I'll bet some of you are asking what fenugreek is. Well, if you've ever smelled curry powder, fenugreek is the dominant note (at least, it is to me). I use it when making marinated Mediterranean chicken or lamb, and in the fantastic Persian dish Ghormeh Sabzi. I will absolutely post that unphotogenic meal eventually, only because it is one of my absolute favorite foods- it's made of tons of chopped parsley, spinach, green onions, cilantro, and dried fenugreek with red beans, cubes of beef or lamb, and then spruced up with a bit of lemon juice, then served over hot basmati rice.
*drool*
But I digress... Here's the vegetables I used in my roasted vegetables, as I try to find something to wipe my chin with.
Roasted Vegetables
(everything is cut into similar sizes- about 1" cubes)
1 large parsnip, peeled & cut
3 carrots, peeled & cut
1 red onion, peeled & cut
3 turnips, peeled & cut
1 green bell pepper, cored & cut
1 red bell pepper, cored & cut
3 cloves of garlic, smashed and peeled (but NOT minced or grated- it'll burn and be bitter)
2-3 Tbsp. olive oil
1 tsp. salt
1/2 tsp. pepper
1/2 tsp. dried fenugreek
1. Preheat oven to 450°F.
2. Toss cut veggies with olive oil and spices. Arrange in a roughly even layer in the bottom of a large roasting pan.
3. If cooking with a roast chicken, place into the oven with the chicken when there's 30 minutes left.
4. After 15 minutes, toss the veggies around to keep from burning (and setting off the smoke alarm, like I did).
5. After 30 minutes, remove veggies (and chicken if you're doing both) and let cool for 5 minutes or so before devouring.
Now, about one of my all-time absolute favorite side dishes that has become a staple. The original recipe is called "Darth Tater", but I call them "Cheesy Roasted Potatoes" so I don't have to repeat myself 1000 times when Hubs ask "We're having WHAT?"
lol
I've declared my adoration for Janet and Greta Podleski's
Eat, Shrink & Be Merry!
before, and this cheese-covered monster is a big reason why. Do NOT run away when you see the ingredients. I'll include their nutritional information at the end, just as an extra selling point.
But, trust me. If you make these, you'll want to make them ALL the time. Heck, you may want to stock up on ingredients for the cheese sauce-- it could probably be used on tons of vegetables and your kids would inhale them! :-O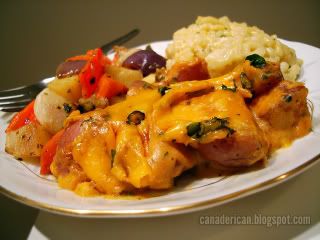 Darth Tater
(from
Eat, Shrink & Be Merry! by Janet & Greta Podleski)
2 1/2 lbs (1.1 kg) red or white potatoes, cleaned with the skin left on!
1 c. chopped onions
1 Tbsp. olive oil
1 tsp. garlic, minced or grated
1/2 tsp. salt
1/4 tsp. ground black pepper, paprika, and dried thyme
(I've omitted the thyme and it's perfectly fine without it!)
1 can (10 oz) condensed cheddar cheese soup, undiluted
(COME BACK! lol Just trust me...)
1/3 c. grated Parmesan cheese
2 Tbsp. fresh dill or parsley, chopped
(Parsley is my favorite here.)
1/2 c. packed shredded light old (or sharp) cheddar cheese
1 green onion, chopped
1. Preheat oven to 425°F.
**See note at the end!
Cut potatoes into 1" chunks and place into 9x13" baking dish sprayed with cooking spray.
2. Add onions, garlic, olive oil and spices. Toss until potatoes are thoroughly coated.
3. Roast for 30 minutes, stirring halfway through. Remove from oven and let cool slightly. Reduce oven to 375°F.
4. In a medium bowl, mix soup with Parmesan cheese and herbs. Pour over potatoes and stir around to coat well. Sprinkle grated cheese on top, followed by green onion.
5. Bake for another 25 minutes, uncovered, until cheese is bubbly and potatoes are golden brown around edges.
6. Remove from oven and let cool for 5 minutes before serving.
**Note:
I made these at the same time and temperature as the chicken and vegetables (450°F), but cut down each cooking time by 8-10 minutes. The second time in the oven was also done at the higher temp for only 12-15 minutes instead of 25. They turned out perfectly fine, and mighty tasty if I do say so myself...
And I do. :-D
at 11:00 AM