Thursday, February 12, 2009
Just as a reference, I was singing "It's spa-ghetti and meatballs time, it's spa-ghetti and meatballs time!" the entire time I was making this dish. :-D If you've ever heard "It's Peanut Butter-Jelly Time", think of that tune.

Because my life isn't exciting enough, I decided I'd join this amazing group dedicated to making recipes from Ina Garten, aka "Barefoot Contessa". The Barefoot Bloggers, are very similar to The Daring Bakers, because the recipes are picked by different people each time, but there's 2 recipes a month, posted on every other Thursday!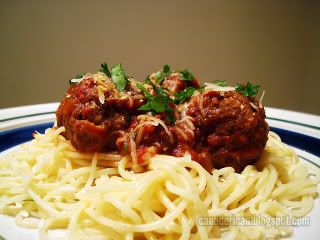 Lucky for me, I was fortunate enough to ask for membership at the right time- the very first recipe of February is Spaghetti and Meatballs! Anyone who knows me, knows that I have a ridiculously irrational love for pasta. And this particular meatball recipe... there are no words to describe how wildly delicious they were- juicy, full of flavor, and so easy to make!

My only alteration to this recipe was that I used only pork and ground beef- veal is not exactly appealing to me, even when mixed with other meats. Other than that, I followed everything and the entire pot of pasta and meatballs was inhaled by the end of the night! However, if I were to make this again, I'd likely bake the meatballs to cut down on the amount of oil used when making the meatballs. I'm curious if Ina really knows how deep 1/4" actually is... lol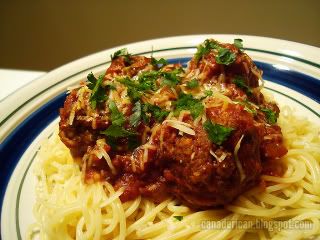 Check out the other Barefoot Bloggers to see what others thought! If you want to try the recipe for yourself, it's available on Food Network, and it's posted below! :)

For the meatballs:

1/2 pound ground veal
1/2 pound ground pork
1 pound ground beef
1 cup fresh white bread crumbs (4 slices, crusts removed)
1/4 cup seasoned dry bread crumbs
2 tablespoons chopped fresh flat-leaf parsley
1/2 cup freshly grated Parmesan cheese
2 teaspoons kosher salt
1/2 teaspoon freshly ground black pepper
1/4 teaspoon ground nutmeg
1 extra-large egg, beaten
Vegetable oil
Olive oil

For the sauce:
1 tablespoon good olive oil
1 cup chopped yellow onion (1 onion)
1 1/2 teaspoons minced garlic
1/2 cup good red wine, such as Chianti
1 (28-ounce) can crushed tomatoes, or plum tomatoes in puree, chopped
1 tablespoon chopped fresh flat-leaf parsley
1 1/2 teaspoons kosher salt
1/2 teaspoon freshly ground black pepper

For serving:
1 1/2 pounds spaghetti, cooked according to package directions
Freshly grated Parmesan


Place the ground meats, both bread crumbs, parsley, Parmesan, salt, pepper, nutmeg, egg, and 3/4 cup warm water in a bowl. Combine very lightly with a fork. Using your hands, lightly form the mixture into 2-inch meatballs. You will have 14 to 16 meatballs.

Pour equal amounts of vegetable oil and olive oil into a large (12-inch) skillet to a depth of 1/4-inch. Heat the oil. Very carefully, in batches, place the meatballs in the oil and brown them well on all sides over medium-low heat, turning carefully with a spatula or a fork. This should take about 10 minutes for each batch. Don't crowd the meatballs. Remove the meatballs to a plate covered with paper towels. Discard the oil but don't clean the pan.

For the sauce, heat the olive oil in the same pan. Add the onion and saute over medium heat until translucent, 5 to 10 minutes. Add the garlic and cook for 1 more minute. Add the wine and cook on high heat, scraping up all the brown bits in the pan, until almost all the liquid evaporates, about 3 minutes. Stir in the tomatoes, parsley, salt, and pepper.

Return the meatballs to the sauce, cover, and simmer on the lowest heat for 25 to 30 minutes, until the meatballs are cooked through. Serve hot on cooked spaghetti and pass the grated Parmesan.

at 12:00 AM