Saturday, January 31, 2009
I've recently started a love affair that Hubs is only beginning to understand. It started in the freezer aisle of the grocery store, and continues into my kitchen... What am I talking about, you ask? lol Frozen puff pastry! Not only is it fairly cheap (compared to the price of butter and flour here), it's super easy to work with and tasty to boot! I decided to do a post to show the versatility of this kitchen wonder, using another recipe from America's Test Kitchen Family Baking Book, as well as a simple and delicious dessert that is fantastic with tea.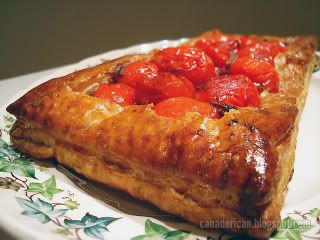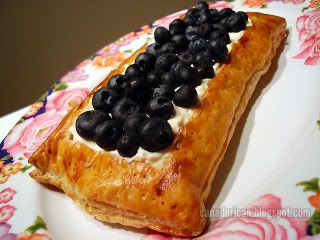 May I humbly present: a Tomato & Goat Cheese tart and a Blueberry Whipped Cream tart.

Tomato & Goat Cheese Tart (This recipe makes 2 tarts, the size of the one pictured- since I only made one savoury, I'll list the scaled quantities I used.)

1 (9.5x9") sheet of dethawed frozen puff pastry
1 large egg, lightly beaten
1 c. cherry tomatoes
1.5 Tbsp. olive oil
1 tsp. balsamic vinegar
1 shallot, sliced thin (I used 1/4 of a white onion)
1 garlic cloves, sliced thin
1/2 tsp. sugar
salt
pepper
3/4 c. goat cheese, softened (herbed goat cheese is great in this)
1/4 c. cream cheese softened (The mix of goat and cream cheese is great for people who don't like the strong flavor of goat cheese!)
1 Tbsp. fresh basil, chopped (I omitted this)

Blueberry & Vanilla Whipped Cream Tart

1 c. fresh blueberries (or whatever berry you'd like)
1/2 c. heavy whipping cream
1 tsp. vanilla extract
2/3 c. powdered sugar

For both tart bases:

1. Preheat the oven to 425°F. Line a baking sheet with parchment paper (or use the paper that the puff pastry comes wrapped in!).
2. Cut the puff pastry into 2 9.5x4.5" rectangles. Brush each piece lightly with egg wash, and poke them each thoroughly with a fork.
3. Bake for 10 minutes, then lower the oven temperature to 350°F. Continue to bake for another 10-15 minutes, or until the pastry shells are golden brown. Remove from oven and let pastry cool for 20-30 minutes. Leave the oven on for the tomatoes!
4. With a paring knife, cut a 1/2" border around the edges of the cooled pastries. Lightly press down on the center piece until it rests 1/4" or so from the top edge.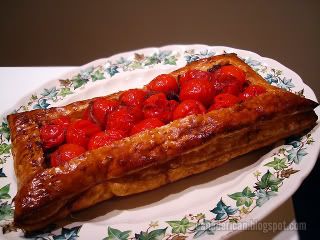 For the tomato tart:
1. Toss the tomatoes with the 1 Tbsp. of the oil, shallot, garlic, vinegar, sugar, salt & pepper. Spread the tomatoes in a baking dish, and roast the tomatoes without stirring for 30 minutes. Their skins should be slightly shriveled, but they should still be cute round little buggers.
2. Increase the oven back to 425°F. Mix the goat cheese, cream cheese & remaining 2 Tbsp. of oil until smooth.
3. Smooth the cheese mix evenly over the center piece you pushed down. Spoon the roasted tomatoes on top of the cheese.
4. Brush the edges with egg wash and bake again for 10-15 minutes. Rotate the baking sheet halfway through baking.
5. Remove from oven and let cool for 5 minutes on the baking sheet, then cool for longer on a serving platter.


For the blueberry whipped cream tart:
1. In the bowl of a stand mixer (or with your hand mixer), whisk the cream until soft peaks form.
2. Gradually add in the powdered sugar a few tablespoons at a time. Scrape down sides and bottom of bowl after each addition. Add in vanilla and whisk until slightly stiffer peaks form.
3. Evenly spread the whipped cream over the center piece that has been pushed down.
4. Arrange blueberries on top of whipped cream. You can either enjoy as is, or top with more powdered sugar.

at 9:01 PM