Saturday, January 24, 2009
"Vegetarian" is not a word that is part of my household's lexicon. Between Hubs's and his mom's Persian background and my Southern background, red meat is pretty much a staple for every meal. After taking a class about heart-smart eating last fall, we've made the effort to eat more chicken, less white carbs (which is fantastic for me, since I LOVE brown rice more than any normal person should), and more vegetables (also, great for me, since I've always had an irrational attraction to perfectly shaped peppers and tomatoes, etc).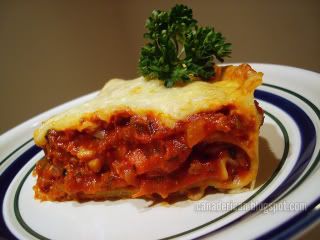 I've offered a recipe before from a Cooking Light cookbook (see: Skillet Chicken), and there are a couple particularly tasty and easy recipes that have made their way into normal rotation for my growing list of "go-to" dinners. One that I felt was worthy of sharing is the Italian Vegetable Pie. While it is a totally vegetarian dish, there's one ingredient you can add to fool any meat lover...


I tried something new this time. Allow me to present my attempt at a Mise en Place. I don't typically have everything chopped and ready to go, because most of my recipes don't involve much cutting (my poor nails and fingertips have been through enough!). This time, I felt it was necessary. Besides, aren't those bowls adorable?! Mother-in-law bought them at the Asian market 2 nights ago, along with a ton of sushi and sesame crackers. What better way to use such lovely little bowls than for a Mise en Place. :)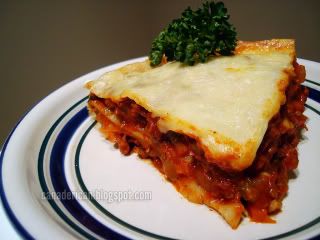 Italian Vegetable Pie (adapted from Cooking Light)

2 tsp. olive oil
1 c. chopped green bell pepper (roughly one medium-sized pepper)
1 c. chopped onion (I just use one medium yellow onion)
1 c. chopped mushrooms
1/2 c. chopped carrot
1/2 c. chopped celery
3 garlic cloves, chopped or grated
3 Tbsp. tomato paste
1 tsp. dried Italian seasoning
1 tsp. fennel seeds (I omitted these and used 2 tsp. curry powder for a different flavor)
1/4 tsp. crushed red pepper flakes
1/2 tsp. salt
1/4 tsp. pepper
1 package (12.3 oz) firm tofu, drained and crumbled (**see note at the end!!)
1 bottle (25.5 oz) fat-free marinara sauce
6 cooked lasagna noodles, cut in half (I used whole wheat noodles)
Cooking spray
1 1/2 c. shredded part-skim mozzarella cheese
1/4 c. grated Parmesan cheese

1. Preheat oven to 375°F. Spray 9" deep dish pie plate.
2. Heat oil in a large skillet, over medium-high heat. Add bell pepper, onion, mushrooms, celery, carrot and garlic. Cook for 5 minutes or so, until vegetables are softened.
3. Stir in tomato paste, spices, tofu, and marinara sauce. Bring mixture to a boil. Reduce heat and simmer uncovered for 10 minutes.
4. Arrange the lasagna noodles in a "spoke-like" pattern in the bottom and up the sides of the sprayed pie dish. Spread 3 cups of the tofu-sauce mixture over the noodles. Folds end over the top and cover with remaining sauce.
5. Sprinkle cheese on top and bake on a tin-foil covered baking sheet for 20 minutes.
6. Let cool for 5 minutes or so. Cut into pizza-like slices, and serve with salad on the side!

**NOTE: So, I said that this is a dish that would appeal to meat-lovers and vegetarians. I know that most meat-lovers will shudder at the mention of "tofu" but look in the produce section of your grocery store for a "veggie meat" substitute. I personally recommend Yves Veggie Cuisine "Ground Round"-- I fooled my meat-eating Hubs THREE times before I told him that it wasn't actually meat. :-D It's a great way to cut down on your meat intake and still get the protein you need in a meal.

at 6:01 PM