Thursday, October 30, 2008
Like I said before, I've stalked... er... followed the Daring Bakers' challenges for quite some time. One in particular caught my eye. The June challenge was quite a doozy (or is it doozie?)- Danish Bread. When I saw the bloggers that did this, I was in absolute AWE. I re-thought whether I wanted to join Daring Bakers or not. lol Between the French words "detrempe" for dough and "beurrage" for a butter & flour mix used in the recipe and the amount of TIME this took, I thought I may have gotten in over my head in testing my DB qualifications.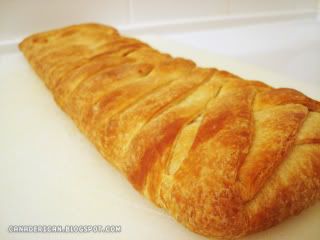 Lo and behold, I made it through all 4 turns... and I made it through the overnight chilling... and I made it through the bazillion rollings... and I made it through the 2 hours of proofing. Both braids were devoured in less than 45 minutes. :-O I made them both savory, so I played with the recipe just a bit. Instead of orange zest and juice, I used lemon for both, since I LOVE lemon with sweet and savory dishes; also scaled the amount of sugar down to about 2 tablespoons and omitted the vanilla flavors completely.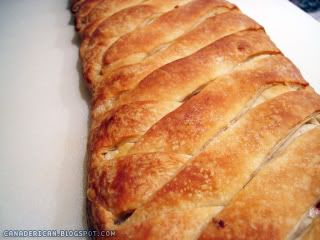 For the fillings, I used some of the roma tomatoes from my last harvest (my poor little tomato plants are finally done), mozzarella, parmesan and Italian seasoning. For the other, garden veggie cream cheese, red bell pepper, arugula and turkey bacon. The only sounds I heard for the 45 minutes while we ate were "Mmmmm....". lol I was instructed to use "Mmmmm" as my only caption.


So for anyone hesitant about joining Daring Bakers or nervous about jumping into a new idea, I suggest just going in head first. If you're feeling as adventurous as I was, check out the DB blogroll, Em's blog or one of my new favorites, Fo-ne-tic-lee Speaking. What can I say? I'm a linguistics minor and a HUGE nerd for anything related to linguistics, so the name tickles me. :-D Both of these wonderful ladies have great photo tutorials and helpful tips.
Fun fact about me: I bake as a procrastination/avoidance mechanism. I've had midterms for the last 2 weeks, plus a paper due, and a presentation next week. Where have I had the time to bake these things? There's a reason I'm just an okay student and not an A+ student like I was in high school. Back then, I just didn't know that I could actually MAKE the things that I'm so addicted to. :-D
Click here if you're hungry!
So I know I said I had some news... before anyone starts buying baby toys and clothes, no I'm not pregnant.
lol
My big news is that I was graciously allowed to join The Daring Bakers group! For those not familiar with DB, they are a fantastic group of bakers, both bloggers and non-bloggers, who are given a hosted baking challenge every month (and are asked to post by a specific date- but, in true Tia fashion, I'm late. I'm always late. Always. Ask anyone.). I've been following their challenges for several months now, since one of my favorite bloggers,
Em
, started. Lucky for me, the challenge for October is a Paul Reinhardt pizza dough recipe!
Courtesy of the host, Rosa, the recipe provided called for a chilled, overnight rising of the yeast-based dough and tossing the dough like "a real pizzaiola" which was completely new to me. I was so excited to be doing my first ever DB challenge, that I kept opening the fridge to look at my little dough balls, just to make sure I wasn't imagining it. :-D
One requirement set by our host was that we had get a photo of ourselves tossing... every picture resulted in a pizza-sized donut. The dough was so tender, I managed to put my fist through the dough every single time.
lol
However, the resulting crust was declared "the best crust EVER" and "no other pizza will ever cross the threshold into my house" by Hubs. He loved it
that
much- I've already had requests to make it into calzones and dessert pizzas. I tried making breadsticks from one of the dough balls and it was simply incredible.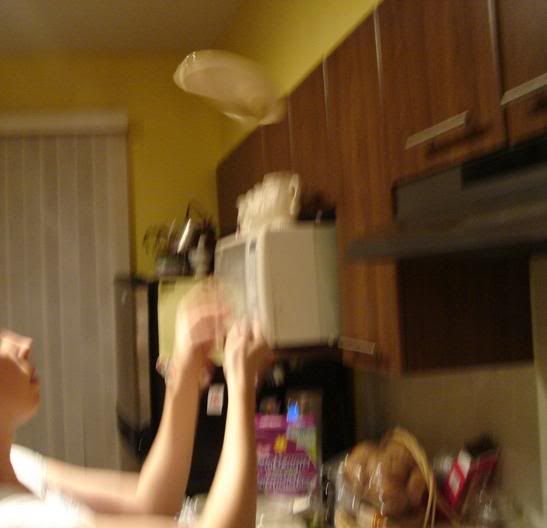 Because Hubs isn't as much of an adventurous eater as I am (i.e. he's the pickiest eater known to man), I made a small pizza all for myself, with a blue cheese bechamel base, topped with ham and green onions. As an after thought I tossed some mozzarella and asiago in the last 2 minutes of baking. This was hands-down one of the best pizzas I've ever had, and the crust was just perfect. You can totally control whether you want a super-thin crust or a super thick crust.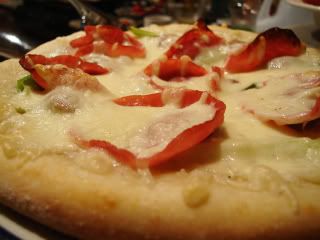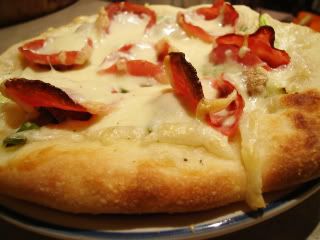 See that little drip of cheese? It was attached to some slightly browned cheese that had dripped on to the baking sheet. I gobbled that right up. I can't be the only person who appreciates slightly overcooked... ok, burned... cheese. I'm not, right? :-D
For Hubs, I made a slightly more traditional pizza, with a little thicker crust, topped with green onions, red peppers, pepperoni, fresh garden tomatoes and mozzarella .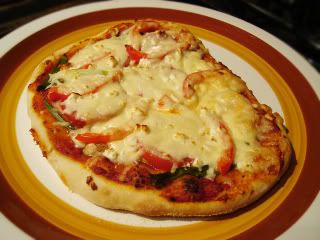 Let's just say there weren't any leftovers for lunch the next day. :-D
If you want to try this pizza recipe (and I *insist* you do- you will
not
regret it), you can check it out on Rosa's blog
blog
. Since I'm still a novice, you should also check out other DB's on the
blogroll
for some great topping ideas and much nicer pictures. :-D
I'm still working on Thanksgiving pictures, and I'm also attempting an old DB challenge (the Danish Braid!), so hopefully, with midterms behind me, these will be posted soon. This is such an addicting habit the only things on my Christmas wishlist are plates, a photobox, proper lighting and a new camera for taking nicer pictures.
lol
Can you tell I'm very ready to be done with school and doing things that have no relation whatsoever? :-D
Click here if you're hungry!
Saturday, October 25, 2008
I apologize again for falling so behind in my posting. Because this is my last semester, midterms seem to be wildly harder. But no complaints here... I do enough whining to my fantastic friends. The next few posts will probably come in all at once, since I don't want to make one HUGE post. (If anyone knows how to do a "jump" post, I would GREATLY appreciate the script or a tutorial.)

For now, I'll just say, I *will* be back to posting soon, and will have quite a few new pictures and recipes. :)
Click here if you're hungry!
Sunday, October 5, 2008
This is going to be a big month for me, but I can't say why yet. Well, I *could* but I'd rather wait until I can share all of the details first. :-D Trust me, it will be great, though!

So I used a super simple recipe from Cooking Light (again). I'm here to say, if you haven't tried anything from these recipe books, you're missing out. Beyond the fact that they're are super delicious, the recipes are easy, adaptable for all tastes, and offers a great nutritional breakdown. I haven't gotten pictures of it, but I've made a lot of their baked goods too, and those are sensational! Jam-filled brown sugar muffins, monkey bread, breadsticks... Mmmmmmm... now my sweet tooth is kicking in.

But I digress... Skillet-Roasted Lemon Chicken with Potatoes is insanely easy, tasty, and is a great one-dish meal, especially for single guys & gals, or people who live in dorms that can access a stove. I made a few modifications to the recipe: I used lemon and lime slices under the chickene; used a package of chicken tenders instead of thighs because I just do NOT like dark meat poultry; omitted the olives; and more veggies than it called for because I knew that I would inhale the tomates and the potatoes were going to be a BIG hit, especially with Hubs. If your grocery store has them, there are these nifty little bags of baby red, white and purple potatoes in the produce section-- I used a good bit of one of those bags (probably half?). Like I said, this recipe is easy to mold to your personal tastes. I'd suggest playing around with the spices, the juice/zest, and the meat. I think it'd work fantastically (is that a word?) with fish, like tilapia or halibut.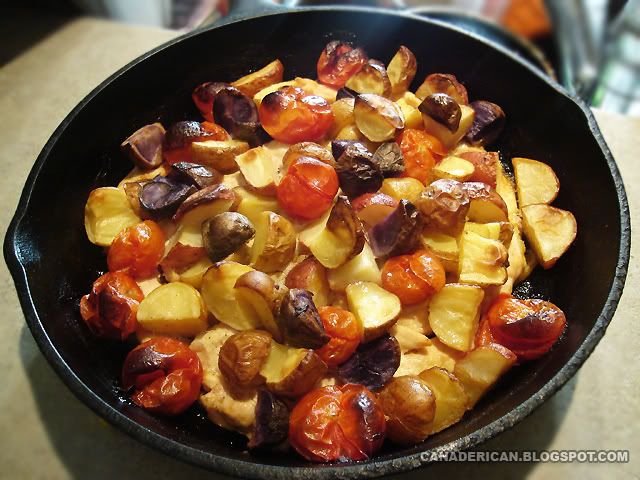 Skillet-Roasted Lemon Chicken with Potatoes (from Cooking Light)
(makes 4 servings)

1 large lemon, sliced (along with 1 lime, sliced)
2 tsp. extra virgin olive oil
1/2 tsp. grated lemon rind
1 Tbsp. fresh lemon juice
1/2 tsp. salt
1/4 tsp. black pepper
6 garlic cloves, minced (I used maybe 3, because 6 seemed over-the-top)
1 tsp. chopped fresh or 1/4 tsp. dried, rosemary
8 (3-oz) skinned, boned chicken thighs (or 1 medium, 1 lb? package of chicken tenders)
10 cherry tomatoes
10 kalamata olives
8 small red potatoes, quartered (about 1 1/4 lb.)

1. Preheat oven to 450F.
2. Arrange lemon (and lime) slices in a single layer in bottom of a 1o-in. cast iron skillet.
3. Combine oil and next 6 ingredients in a large bowl. Add chicken, tomatoes, olives, and potatoes; toss to coat. Arrange chicken in a single layer on slices. Arrange vegetables over chicken. Bake at 450 for 55 minutes or until chicken is done.

(1 serving= 1 thigh and 1 c. vegetable mixture)

Nutritional Info:
Calories..... 374
Fat..... 10.4 g
Saturated Fat..... 2.3 g
Monounsaturated Fat..... 4.6 g
Polyunsaturated Fat..... 2.2 g
Protein..... 37.5 g
Carbohydrates..... 34.2 g
Fiber..... 3.4 g
Cholesterol..... 141 mg
Iron..... 3.7 mg
Sodium..... 541 mg
Calcium..... 65 mg
I got a little antsy and creative with some left over puff pastry I had sitting around too. I've seen all of these gorgeous apple tarts and apple tatins before, and always got intimidated because they were gorgeous and my apple things always leak out of the pastry. Always. Without fail. Well, this one was no different, but I didn't take a picture of the massacre-looking parchment paper this was baked on. I didn't really follow a recipe. Mixed 3 or 4 sliced, peeled pink lady apples with around 2 tsp. of ground cinnamon, 1/4 tsp. of nutmeg, 2 Tbsp. of sugar. Unrolled one roll of puff pastry. Spread apple mixture on the pastry, leaving about a 1" edge. Roll the edge up, folding over while attempting to make it somewhat circular. Brushed the whole she-bang with an egg wash, and then sprinkled the edges with sugar. I think it was baked at 375F for about 20-25 minutes? This is why I need to write things down when I decide to experiment with no recipe. lol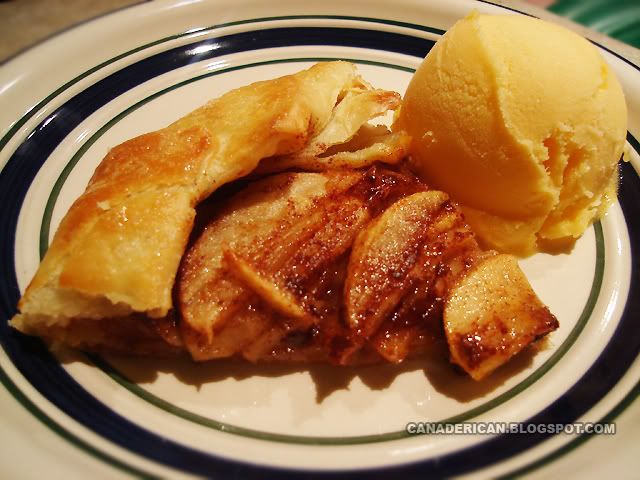 Oh, and might I add, mango gelato with apple anything is absolutely phenomenal. It made sound odd, but really... It's no stranger than eating cranberries with stuffing at Thanksgiving. Mango gelato can change your world. Yes. Yes, it will.
Speaking of which, Canadian Thanksgiving dinner will probably be my next post! It's my turn to do dinner, and thankfully, there's not many people coming, so it will be Thanksgiving on a slightly smaller scale. :)
On a blogging note, I'm undecided on whether to start taking process picures again. What says the awesome visitors to my little cobweb-covered corner of the internet? Yay or Nay?
Click here if you're hungry!