Sunday, September 28, 2008
I am truly sorry it took me so long to post another recipe. In an attempt to avoid writing the research paper I have due in 2 days, I thought I would share one of my favorite recipes I've tried in the last few weeks, and one of the few I've been able to get a picture of before it was inhaled by the vacuum that is Hubs. lol

Like I commented in Ugly Dude's blog, Eat, Shrink, and Be Merry by Janet and Greta Podleski is a fantastic cookbook. Not only are there great recipes, they offer Canadian and American measurements for lots of things, and every single page has extra information on everything from cholesterol to exercise to factoids about the history of certain food-related items. Anyone who's ever seen their cooking show will adore this book... even if you haven't seen it, you'll still love it because it's not pretentious and it doesn't pretend to be anything other than plain-old good food.

Or maybe I'm just easily amused by the cute names they give things- "Ponderoasta", "Darth Tater", "Pea Diddy"? Heeheehee. Admit it. Those are pretty damn cute. :-P

Well one of the first recipes I tried was called "I'm Dreaming of a White Chili", and admittedly, I was hesitant to try it. The ingredients include evaporated milk and canned chilies. Only ever having had red, carnivorous chili, a white chili with chicken was intriguing. The texture as it's cooking looks almost curdled, but it truly is amazingly tasty. The monterey jack and cilantro "garnish" are NOT optional... these add so much flavor and make everything balanced, flavor-wise.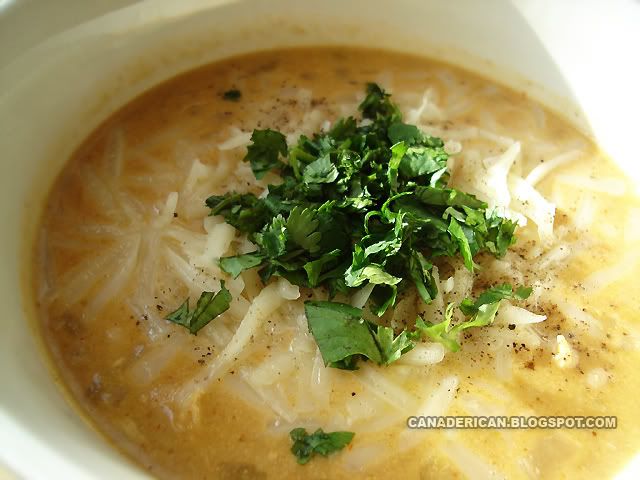 I'm Dreaming of a White Chili (from Eat, Shrink, and Be Merry by Janet & Greta Podleski)
(makes 8 servings)

2 tsp. olive oil
4 boneless, skinless chicken boobs (roughly 1.5 lbs) cut into 1" cubes
1 1/2 c. chopped onions
1 c. diced celery
2 tsp. minced garlic
1 Tbsp. chili powder
2 tsp. each ground cumin & dried oregano
1/2 tsp. ground coriander (I left this out because apparently everyone in my area decided they needed to buy every container of ground coriander in a 20 mile radius)
1/4 c. all-purpose flour
3 c. chicken broth
1 can (14 oz./385 mL) evaporated 2% milk
2 cans (19 oz./540 mL) navy beans, drained and rinsed
1 can (4.5 oz./127 mL) chopped green chilies
1/2 tsp. each salt and ground white or black pepper
1/4 tsp. cayenne pepper
1 c. light sour cream
2 Tbsp. chopped fresh cilantro
Shredded Monterey Jack cheese and chopped green onions for garnish (optional- but not really, and I actually used the cilantro as garnish first... then realized I had to stir it in and made another bowl with cilantro in it and green onions as garnish. Oops.)

1. Heat olive oil in a large, non-stick soup pot over medium-high heat. Add chicken and cook for 3-4 minutes, stirring/flipping constantly, until no longer pink. Add onions, celery, and garlic. Cook and stir for another 4-5 minutes, until vegetables begin to soften.

2. Add chili powder, cumin, oregano, and coriander. Mix well and cook for 1 more minute. Add flour and stir until chicken is well coated. Stir in broth and evaporated milk. Bring mixture to a boil. Reduce heat to medium and simmer, uncovered, for 5 minutes.

3. Add navy beans, green chilies, salt, pepper and cayenne to chicken mixture. Reduce heat to medium-low. Cover and simmer for 15 minutes, stirring occasionally.

4. Remove from heat. Stir in sour cream and cilantro. Ladle chili into serving bowls and top with cheese and green onions, if desired (which you will desire... trust me).

I imagine a jalapeño cornbread or plain cornbread with jalapeño butter would have been incredibly tasty with this, but I was starving and lazy and had tons of homework... shocker, right?

Oh oh, and the Podleski sisters also provide Nutritional Info! These ladies are awesome!

Nutritional Info:
Calories..... 309
Total Fat... 4.1 g
Saturated Fat..... 1.2 g
Protein...... 34 g
Carbohydrates... 34 g
Fiber......... 9.3 g
Cholesterol.... 64 mg
Sodium..... 846 mg

And to prove that I *am* human and make mistakes, allow me to share what happens when you add 1 oz. of melted bittersweet chocolate to a cupcake recipe that does not call for 1 oz. of melted bittersweet chocolate. Besides the fact that these were a huge cupcake FAIL, they were still pretty tasty. Hubs said he actually kinda liked the almost cookie-like texture. Go figure. lol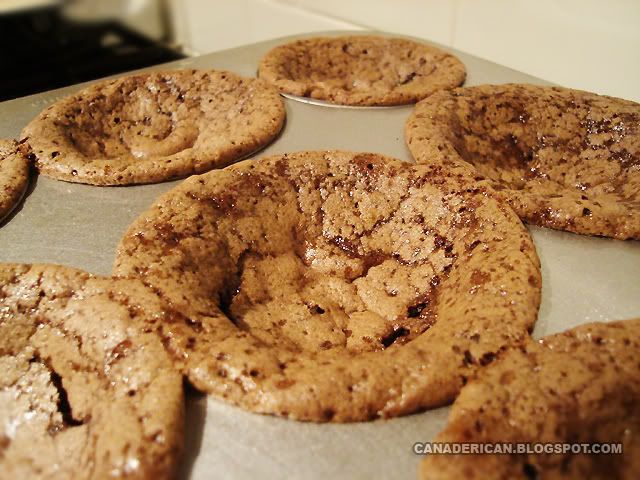 Click here if you're hungry!
Thursday, September 18, 2008
I promise I have not forgotten about this blog! I've tried and managed to photograph several new recipes, but the Hubs and I encountered some computer issues several days ago, and some of the photo files were damaged. :( We're working through which of the remaining ones are worthy of posting and sharing with the web, so it may be Friday night or Saturday before I post.

But when I do finally post... there will probably be at least 4 recipes. :-O When I say they were all hits, I mean they were ALL hits. Even Hubs liked these recipes, and he's a pretty picky guy. If you have the opportunity to check out "Eat, Shrink and Be Merry" by Janet and Greta Podleski or The Cooking Light cookbooks, I HIGHLY recommend these 2. I've had them out from the library for 3 weeks, and plan to renew, so I can have them for three more weeks. lol They're just that great. Even the desserts.

And just to show I'm not really procrastinating as much as just busy, maybe I'll take a picture of all of my textbooks. :-D Being in my second to last semester as an undergraduate, my classes are intense, and require more concentration than I'm used to. So, if there's anyone who checks my poor little space often, rest assured, I will post again soon. :)
Click here if you're hungry!
Tuesday, September 9, 2008
I thought I'd share my first "harvest" of those overgrown tomato plants that are taking over the area under my kitchen window... They're all slowly going from green to orange to red, and I'm getting antsy.

So without any more meaningless chatter, I present my poor anatomically correct male roma tomato.
Cute little bugger, isn't he? :-D
Click here if you're hungry!
Having survived my first week of classes and my first volunteer day (which was a blast- I get to play with kids and not get funny looks, which is always nice), I hope to get back into the swing of taking pictures of my dinners again. I've tried a ton of new recipes but most were devoured so fast, I didn't get the chance to even have any! lol

I've checked out Eat, Shrink and Be Merry by Janet and Greta Podleski and The Complete Cooking Light Cookbook (from 2000- there's a newer version, but my teensy weensy town library isn't exactly up-to-date), and every recipe tried so far has been a huge hit. I promise I'll stop procrastinating and start updating more, because these recipes are fantabulous. Yes, I said fantabulous... you know something's good when you make up new words for it. :-D

On a non-food related note, I'm involved in a student union this semester (go figure- I'm essentially done with my BA and I pick now to get involved with anything). I need some relatively cheap, easy ideas for club/group centered activities. We've come up with bowling, movie and games nights... however, the department the union is in is probably one of the smallest in the entire university. Woot- yay for linguistics not getting enough funding! But I digress... we need to have some enticing activities to talk about to draw more people into the group so it can keep going after our group graduates in summer! Any ideas are more than welcome!

Ok, I'm a food person, who am I kidding? I have to share this blog I stumbled upon via Em's. The name is not only clever, it is downright funny. If Hubs cooked or baked, that would be the name of his food... well, except he's not ugly... but you get the idea, right? lol Anyhow, the name of the blog is Ugly Food for an Ugly Dude, and not only are his posts hilarious, he's a great cook! Highly recommend checking it out! :)
Click here if you're hungry!