Wednesday, July 30, 2008
... so live in the present. Randy Pausch did this, and he accomplished many of his childhood dreams. I urge anyone who happens to stumble on to my blog to watch this clip of his Last Lecture, which spawned the book "The Last Lecture". It's about an hour long, but it's well worth it.

http://www.youtube.com/watch?v=ji5_MqicxSo

Appreciate the people you have and have had in your life. Without them and the experiences you have, life is nothing more than a mere existence.
Click here if you're hungry!
Sunday, July 27, 2008
Not a very tasty sounding combination but that's what this post is all about! lol While I have been cooking and baking, I haven't really done any "new" recipes that I got too excited about... so I'll share some of my tried-and-true favorites. Anytime I make these, they vanish pretty fast. :-D I didn't think to take any process pictures but maybe next time.


Chicken meatloaf- based on a Rachael Ray recipe. I know some people think she's not gourmet or whatnot, but ya know, I adore her. Not only are her recipes simple, fast and absolutely delicious, she doesn't try to present herself as gourmet. I love Food Network and I love the more classically trained chefs too, but RR uses ingredients that are far more accessible and more reasonably priced than most. So two thumbs WAY up to Rachael Ray. ;)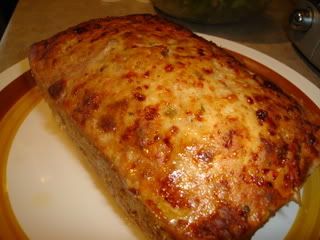 Chicken Meatloaf c/o Rachael Ray

2 tbsp. olive oil
2 tbsp. butter
1 onion, chopped
2 stalks of celery, finely chopped
1 box Reduced Sodium Stove-Top Stuffing
1 1/2 cups of Reduced Sodium chicken stock
1 tsp. poultry seasoning
1 bay leaf
3 lbs. lean ground chicken (or turkey)
salt & pepper to taste
1. Preheat oven to 425F. Place ground chicken in large bowl.

2. Melt butter with olive oil in a pan. Sautee the onion and celery with the bay leaf until the veggies are softened.
3. Add the box of stuffing mix to the pan and stir around to get the fresh veggies mixed through. Add poultry seasoning and chicken stock and take off the heat to mix in. Let cool before adding to ground chicken. Note: I don't usually need the entire pan of stuffing- I typically have about 1/2 c. of it leftover... which makes a dandy snack.
4. Mix stuffing and chicken together, and then you have the choice of how to bake it. I like the texture better when placed in a glass loaf baking dish and baked for about 2 hours. Alternatively, you could form it into a loaf and place it on a baking sheet- I believe this only needs to bake for 90 minutes, but the texture is slightly different/drier.

Part of dinner last night was "Let's use up all of the veggies in the fridge before they go bad." lol I had some fresh local green beans and a couple of small local zucchini.
For the green beans, I trimmed the ends and cut most of them in half, blanched in salted water, then "shocked" in an ice bath. While they were in the ice water, I heated up about 1/2 tbsp of olive oil and 1 tbsp of butter in a skillet and then tossed the green beans in there (after draining, of course). Not knowing what else to do, I added a touch of poultry seasoning, salt and pepper, and cooked for about 5 minutes. Then realized I had some whole grain dijon mustard leftover. So I squirted
*snort*
about 3 tbsp onto the beans and tossed them around for another minute or two. Not too bad if I do say so myself.
The zucchini were a bit troublesome. I love zucchini and I always tend to do the same thing with them (zucchini, tomato and curry powder), so I thought I'd try a different approach this time. I softened up 1/2 a HUGE white onion, chopped pretty roughly, in some olive oil over super high heat. Cut the zucchini into 1 in. medallions, then cut the circles in 1/2. Tossed those in with the onion and let those cook a bit- I look for at least one side of most of the pieces to turn brown. Then I open ALL the windows and turn on the fan, and add 1 & 1/2 whole chopped fresh tomatoes. Yep, whole fresh tomatoes.
NOM NOM NOM.
After those cook together for about 2 minutes, I added salt, pepper, and tons of fresh lemon juice (instead of curry powder this time!).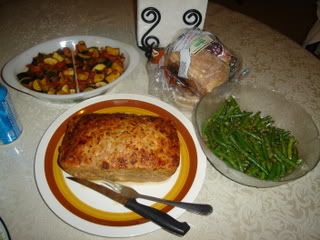 This is what the whole spread looked like- the copious amount of bread was for the Hubs. He is physically incapable of eating food without bread. He doesn't even need a fork most of the time.
lol
This morning, I decided it was time to make my favorite banana chocolate chip muffins, which is actually a rip-off of Barefoot Contessa's Banana Crunch muffins. These disappear almost as quickly as chocolate chip cookies and cupcakes in this house.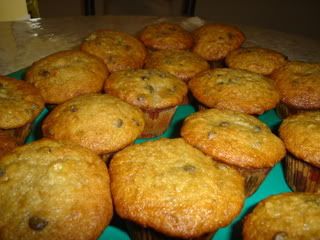 Banana Chocolate Chip Muffins
3 c. flour
2 c. sugar (I do 1 c. white granulated sugar, 1 c. demerara sugar- my love)
2 tsp. baking powder
1 tsp. baking soda
1/2 tsp. salt
1/2 lb. (or 1 c.) unsalted butter, melted and cooled
2 eggs
3/4 c. milk
2 tsp. vanilla extract (1 tsp. maple extract optional)
2 overripe bananas, mashed
1 ripe banana, chunked
1 1/4 c. chocolate chips
1. Preheat oven to 350F.

2. Sift together flour, baking powder, baking soda, and salt. Mix in the sugars.
3. In a separate bowl, mash bananas and mix in milk, extract and eggs.
4. On low speed (or by hand), mix in melted butter to dry ingredients.
5. Still on low (or by hand), mix in banana mixture. Make sure to mix thoroughly, and scrape down sides and bottom of bowl to incorporate all ingredients.
6. Toss banana and chocolate chips with roughly 2 tbsp. of flour (this keeps them from sinking to the bottom of the batter as the muffins bake). Mix banana and chocolate chips in by hand.
7. Using ice cream scoop, fill baking cups place in muffin tins- I tend to get 16-18 out of this recipe, but I got 23 this morning!
8. Bake in oven for 25-30 minutes.
9. Cool muffins in pan for 5 minutes, then remove carefully and let cool on rack.
These are so incredibly soft and tasty. I like to play around with the sugars and the extracts sometimes- I've used maple syrup, instead of white sugar, in combination with the demerara sometimes, and those were great too!
And now for the finale, I posted a picture of my baby tomato plants when I first planted them a few months ago. Remember?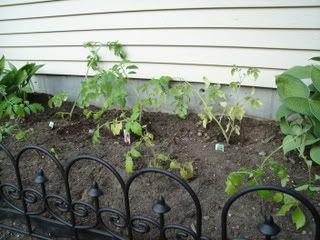 This is what they look like now: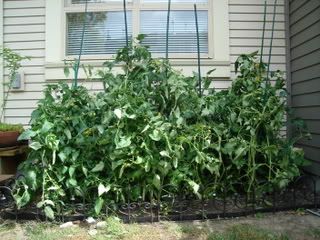 I counted no less than 50 of these little guys: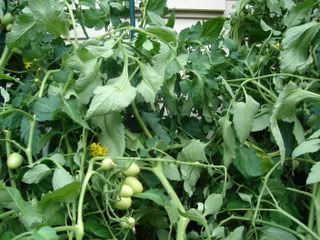 And there's STILL more little flowers waiting turn into them.
On a life note, summer semester is allllmost finished, thankfully. And surprisingly, I'm doing better in both classes than I expected. I hope to have a job by the time fall semester starts, as I've started to apply to some jobs that have to do with the fields I want to get into (audiology and speech pathology- one job is working with adults that have acquired brain injuries). So here's hoping something good happens in that area of my life. Other than that, things are looking better-- Hubs and I are good, my friends are the best people I could ever ask for and if I could, I would adopt them all, and my family are all good.
Life is short. Drink good wine, eat something chocolate and just enjoy the ride. :)
Click here if you're hungry!
Wednesday, July 9, 2008
When I need to escape the world


I turn to solitude for help
For he and I, we talk for hours
Of love, life and loneliness
Some may say I'm crazy
But solitude doesn't judge
Instead he will sit and listen
To all my thoughts and dreams
Though solitude can only stay a while
I make the best of our time
When solitude does leave me
Then it is time to meet reality

--© By Gianluca F. Ortwerth


There are several other poems that capture my mood as well, but this one seemed to sum it up the best. Click here if you're hungry!