Saturday, November 8, 2008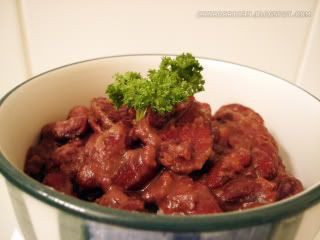 Like the name of the blog says, I'm a Southern girl living in the Great White North, aka Canada. Aside from culture and climate shock, culinary shock has recently set in. I can deal with snow... I can deal with streets being shut down for cultural celebrations I can't even pronounce... one thing I've had the hardest time dealing with is the apparent lack of andouille sausage and crawfish.
*collective gasping*
Yes, I know. These 2 staples are crucial in maintaining my Southern sanity... or insanity. Normality is in the eye of the beholder. :-D
A few months ago, the rain stopped, the clouds parted and I heard the song of angels. I had finally found my precious andouille at a small, local meat shop near my university. I bought a ridiculous amount of it that day, and made even more ridiculous amounts of red beans and rice and jamabalaya for 2 weeks. My stomach is protesting at the mere thought of how much I ate. lol

Today, in honour of my absolute favorite football team ever, the Louisiana State University Tigers, playing #1 Alabama (and the evil, lying Nick Saban), I decided it was time to make a proper red beans and rice again. So I drive to the meat shop only to find empty windowcases and a "FOR LEASE" sign hanging on the door. It took every once of strength not to cry out "WHY?!" Instead, with the fortitude that only comes from a resourceful, and damn hungry, Southern girl, I drove over 45 minutes in the opposite direction to their other location, only to find out they decided to stop carrying it completely.

During the 45 minute drive back (in the rain, as per typical West Coast weather), I decided on whim to stop at a British meat shop that is roughly 5 minutes from my home. Lo and behold, the angels were singing again, as I found packages of FRESH andouille in a case in the back of the store, along with beautiful smoked ham hocks. I'm sure the man who helped me thought I was a total nutjob... not because I started piling these sausages into my arms, but because I was humming to myself "Ode to Joy", I was so happy. lol The gorgeous lady who rang up my asinine amount of pork and beef product made my day THAT much brighter by telling me that they actually make the andouille at their other location.

The end result of my day of (surprisingly relaxing) driving is something that reminded me of being in the kitchen with my grandmother, with her lifting me up so I could stir the massive pot she would make of this wonderful Southern dish. I like to think I made her proud with this batch. :)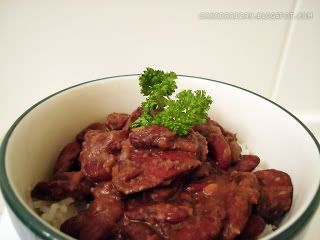 Louisiana Red Beans & Rice

1 smoked ham hock
3 andouille sausage (roughly 3/4 lb.), cut in 1/2 in. diagonal coins
3 1/2 c. dried red kidney beans (you can soak these if you want, but I didn't)
Tony Cachere's Creole Seasoning
1 large bay leaf (preferably fresh, but 2 dried will work)
2 sprigs of fresh thyme
1 large yellow onion, diced pretty small
3 celery stalks, diced same size as onion
1 green bell pepper, diced small
3 garlic cloves, minced finely (or grated)
8-9 c. water
1-2 tsp. salt
1 tsp. pepper
1 Tbsp. vegetable oil (I would not advise using olive oil, but that's more of a tradition thing for me)

1. In a LARGE pot, heat the vegetable oil over medium-high heat. Place the ham hock in the pot and "cook" for 2-3 minutes on each side. Remove ham hock from pot, and place on the side (you'll need it again later). Do the same with the sausage "coins"- these only need 1 minute or so on each side. This is just to render a bit of fat and flavor from the ham and sausages for the veggies.

2. Dump all of your chopped veggies in, and cook in the oil/fat until soft. Add everything back into the pot (ham hock, sausage, seasonings, beans, etc.) and cover with 7-8 cups of water. (I found that starting with 9 was too much liquid at the end. Like everyone says, you can always add more later, but you can never take away too much.)

3. Boil the whole she-bang for 2 1/2-3 hours, uncovered, stirring frequently to keep beans from scorching the bottom of the pot. Remove the ham hock after 1 hr. of cooking. This can be used again to make soup later, so wrap it up tightly and stash that baby in the fridge.

*(You could probably do a short cut and use canned red beans, but I've found beans don't absorb as much of the smoky flavor from the ham and sausage since they're already cooked.)

4. When the beans are cooked (not mushy but not crunchy), mash about 1/3 c. of them with the back of your spoon, on the side of pot. This adds substance to it, and makes it creamy instead of watery.

Red beans and rice is typically served over plain, long-grain white rice, but I've apparently lapsed in my ability to make it, since I ended up with a gigantic clump of rice instead of individual grains. lol So I ended up eating mine over basmati rice. I imagine you could eat this over brown rice as well, to make you feel better about the ridiculous amount of delicious fatness in this dish, but really... why not just go all the way with good 'ole white rice? :-D