Sunday, November 23, 2008
I stumbled across this adorable blog through Tastespotting recently, and the cookies that led me there intrigued me. They resembled my one of my favorite childhood treats- Oreos! I have fond memories of being a little pig with these cookies. We would have a package of Double Stuf Oreos sitting between my dad and me, and he would twist the cookies open so the filling was all on one side. He would hand me that side, I'd devour the filling, then hand the naked cookie half back to him. lol In my defense, I was pretty small. I have since come to love the cookies but only when made almost mush-like with ice cold milk. Yum!

But I digress... back to the recipe!

So I borrowed the recipe for the cookies from Julia at Crazy about Bretzels, but admittedly, I didn't quite follow her directions. It's been a while since I've made cookies, since they're more time-consuming than cupcakes for me, but I still followed my instincts. With her ingredients, I creamed the butter and sugar together, then added the egg and a tiny bit of vanilla. After scraping down the ball and beating the egg in, I added the dry ingredients a little at a time until a brown mass of dough formed.

I baked them the same way she states in her recipe, but, as you can see, my cookies have a crackle appearance. I learned a long time ago that this is due to rolling the cookies into balls. I don't quite remember the science behind it, but something about the dough being in contact with your hands creates a layer of something along the outside that causes the dough to crackle as it bakes and spreads. Oh well. I'm an equal opportunity eater- they are much loved no matter how ugly they are.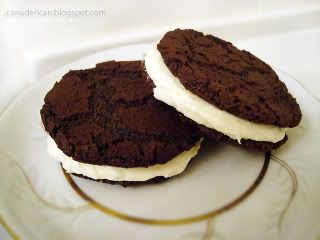 Now, the best part of any sandwich cookie- THE FILLING! I've been on the hunt for an Oreo filling recipe for quite some time. No offense to my Canadian friends, but Canadian Oreos just do not have the same flavor in the filling as American Oreos. I refuse to buy Canadian Oreos, because I always end up disappointed. I have to admit- when I tasted the filling for my homemade sandwich cookies, my knees buckled a bit. The secret to the proper texture and flavor? Granulated sugar. Not much, but just enough. I'm a very texture-oriented person (Hubs often asks if I'm regressing to a place in my childhood because I unconsciously begin petting his fleece sweaters when he wears them lol), so trust me when I say 1 Tbsp. of granulated sugar makes a WORLD of difference.

Homemade Oreo Filling

1/2 c. unsalted butter
1/2 c. vegetable shortening
1 1/3 c. icing/confectioners/powdered sugar
1/2 tsp. clear vanilla extract
1 Tbsp. white granulated sugar

1. Beat butter and shortening together.

2. Add sugar 1/3 c. at a time. Scrape down the bowl after each addition.

3. Add in vanilla and granulated sugar.

Now that I think about it, you might actually be able to add a pinch of salt to cut the sweetness just a bit, but really... it's a treat, so indulge in whatever makes you happy! :)

at 6:50 AM