Monday, November 24, 2008
So I went a little post crazy with trying out some new recipes in the last week or so, and I have a back up of delicious things to share. My procrastination has finally caught up with me- I have quite a bit of schoolwork that I've put off for as long as possible, and can't put off any longer! Boo... :( The only consolation is that the semester is almost over and I'll have more time to play in the kitchen in the new year! YAY!

So the recipe that I wanted to share this time is one that I altered from Eat, Shrink and Be Merry by Janet and Greta Podleski- if you have the book, the recipe is titled "Chicken Pandemoniyum". Like I said before, I'm a sucker for word play and this recipe was too cute and tasty-looking to pass up. I'm sure you can alter it further to use your own wild rice blend or a flavored wild rice or even just plain brown rice. My little twist on this particular recipe (well, I make it differently every time, and this one was one of my favorites, plus it's fall appropriate) was to serve the rice and chicken mix in a roasted butternut squash!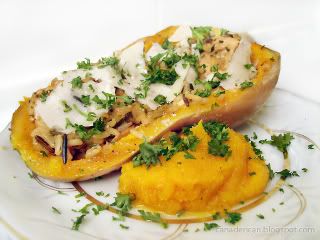 Chicken Pandemoniyum (Eat, Shrink & Be Merry by Janet and Greta Podleski)

3 large boneless, skinless chicken breasts (about 1 1/4 lb)
2 tsp olive oil
3 c. sliced mushrooms (or 1 8 oz. package of pre-sliced mushrooms)
3/4 cup chopped onion
1 tsp minced garlic
1 package (6.3 oz/180 g) packaged Uncle Ben's Long Grain and Wild Rice blend (I usually add 1/4 c. brown rice to the mix)
1 1/4 low-fat, low sodium chicken broth
1/2 cup dry white wine
1/2 cup freshly grated Parmesan cheese

1. Cut the chicken breasts into large chunks . Heat oil in a large, non-stick skillet with a tight fitting lid. Add the chicken pieces and cook over medium heat for about 4 minutes, stirring often, until the chicken is lightly browned all over. Remove from skillet and set aside.

2. Add the mushrooms & onions to the same skillet. Cook, stirring often, until the vegetables begin to soften (about 3 minutes). If the vegetables start to stick add a small amount of water or broth. Add garlic and cook for another minute or so.

3 Add the rice and seasoning pouch which comes with the rice. Mix well and cook for 30 seconds. Stir in the broth and the wine. Return the chicken to the skillet. Bring the mixture to a boil. Reduce heat to medium-low, cover, and simmer for about 20 minutes (or until the rice is soft and the liquid absorbed). Remove from heat. Let stand, covered, for 10 minutes. Stir in the cheese and serve immediately.

To roast a small butternut squash, preheat your oven to 350°. Clean off any obvious dirt from the exterior. Cut the squash in half (VERY VERY carefully- I nearly sliced my finger off doing this)- the easiest way is to put the tip of the knife in the center of the squash and cut through the half closest to you. Then turn the cut end away and repeat with the other end. I find it's easier to cut the squash's butt first, then the neck. Yes, I call the fat end of a butternut squash "the butt." Sue me. :-P Use a spoon to scrape out the seeds and the stringy bits in that little hole. Drizzle olive oil and sprinkle salt and pepper on the cut side of each half. Place cut-side down on a cookie sheet, and roast for 45 minutes. The only way I know of to check the done-ness of roasted butternut squash is to pierce the outside with a knife- if it slips in and out easily, then it's done. Remove from the oven, and let cool to the touch.

You can scoop out the flesh and mash with a little bit of butter, more salt and pepper and a little extra Parmesan cheese, and serve on the side. Fill up the empty squash "carcass" with the chicken and rice and top with more shaved Parmesan and a little salad on the side.

Happy eating!! :)

at 7:44 PM