Saturday, November 29, 2008
Admittedly, I was hesitant about doing this challenge. I'm not a huge caramel fan and neither is Hubs. I debated sitting this one out, and then thought, "That's not the spirit of Daring Bakers. I joined to be challenged, and I will make this work." So I made the recipe into ever-familiar and much-loved cupcakes and hoped they would be eaten with minimal questioning from Hubs. (He's learned to ask what's in my cooking and baking ever since I snuck roasted butternut squash into his macaroni and cheese. lol)

To be completely honest, he wasn't given much of a chance. Between my mother-in-law eating them drenched in leftover caramel syrup, and me eating a cupcake every 20 minutes... they didn't last long.

Since the basis of this recipe is essentially sugar, I had to cut back on the sugar in the cake itself. I only used 1 cup, rather than 1 1/4 c. the recipe calls for. Another way to cut the sweetness overall was to add salt to the icing (well, mine turned out more like a glaze)- I added almost a full teaspoon. The difference between the icing without salt and with salt is so vast, my teeth are going to go on strike soon.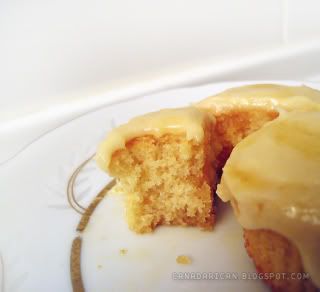 As you can probably tell, I got impatient during my attempt to photograph these little beauties. Such is the life of a delicious cupcake.

The recipe this month was courtesy of Shuna Fish Lyndon via Bay Area Bites, and was picked by our gracious hosts, Dolores, Alex of Blondie and Brownie, and Jenny. For tips on how to make this into a gluten-free treat, head to Natalie's blog to check out what she has to say. :) And I highly highly recommend checking out Shuna's tips on how to make the cake turn out nicely and not like a caramel brownie texture... which may actually not be a bad ideas now that I think about it...

at 12:00 AM