Tuesday, November 11, 2008
I've never had the day off for Veteran's Day before, so I was at a loss for what to do all day. I mean, sure I could work on one of the 3 papers I have due by the beginning of December. Sure, I could catch up on the reading for my classes. Sure, I could clean and do laundry.

But in the spirit of a true last year undergrad, what did I do? None of the above.

I chose to browse through my cookbooks for inspiration, something I haven't done in a while. I stumbled upon a recipe I hadn't seen before. It involved chopped chicken breast, cooked brown rice, cream of mushroom soup, and mixed veggies. I was relatively intrigued, and felt I could make a similar "idea" but tastier and with fresh ingredients instead. So I ended up with...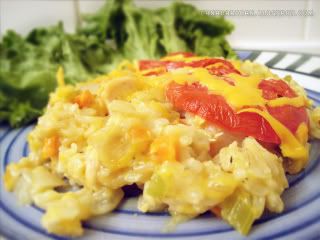 The Chicken Rice Bake Experiment!

3 c. cooked brown rice (I did 1/2 water, 1/2 chicken stock, and undercooked it by about 10 minutes- it will finish in the oven)
2 c. chopped chicken breast
1 Tbsp. olive oil
1 c. chopped celery (the size is totally up to you for the celery and carrots)
1 c. chopped carrots
1 medium onion, chopped
1 tsp. Italian seasoning
1 tsp. mild curry powder
1 tsp. salt
1/2 tsp. pepper
3 Tbsp. butter (or olive oil or margarine)
3 Tbsp. flour
about 1 1/2 c. low sodium chicken stock
2 c. shredded sharp cheddar
slices of tomato (optional)

1. Preheat oven to 350° F.

2. Heat 1 Tbsp. of olive oil in a medium skillet over medium heat. Sauteé the veggies for 2-3 minutes, until onions are just translucent and the carrots & celery are barely softened. Add the Italian seasoning and curry powder, along with salt and pepper.

3. Add 3 Tbsp. of butter to the veggies. Once melted, sprinkle the 3 Tbsp. of flour over and stir so there are no clumps of flour. Cook for 2 minutes (to get rid of the flour-y taste). Stir in the chicken stock and let thicken. The mixture will resemble the filling of a vegetable pot pie.

4. In a large bowl, mix the brown rice rice, veggies, 1 1/2 c. of cheese and chopped chicken. Spread in evenly in a 9x13 dish, and sprinkle the top with the remaining 1/2 c. of cheese. (If you choose to top with the tomatoes, layer the tomatoes before adding the cheese.

5. Bake in the middle of the oven for 30 minutes, until the cheese is melted, and the rice is bubbly.

For the chicken, I've found searing chicken breasts in a pan and then baking in the oven cooks them without drying out. After searing, place a pat of butter on top of each breast and stick the pan in a 400°F oven(if it's not oven-safe, you can wrap tin-foil around the handle, and it magically becomes ok to go in the oven lol). Bake for 35-40 minutes. I have a bad habit of grabbing one of the chicken booobs out of the oven and cutting it in half to check if it's done. :-D What can I say? I'm not a chef. lol

This is such an adaptable recipe and is so easily suited to individual tastes. You could probably do shrimp or pork or beef and play with the seasonings and veggies.
at 7:46 PM