Thursday, October 30, 2008
So I know I said I had some news... before anyone starts buying baby toys and clothes, no I'm not pregnant.
lol
My big news is that I was graciously allowed to join The Daring Bakers group! For those not familiar with DB, they are a fantastic group of bakers, both bloggers and non-bloggers, who are given a hosted baking challenge every month (and are asked to post by a specific date- but, in true Tia fashion, I'm late. I'm always late. Always. Ask anyone.). I've been following their challenges for several months now, since one of my favorite bloggers,
Em
, started. Lucky for me, the challenge for October is a Paul Reinhardt pizza dough recipe!
Courtesy of the host, Rosa, the recipe provided called for a chilled, overnight rising of the yeast-based dough and tossing the dough like "a real pizzaiola" which was completely new to me. I was so excited to be doing my first ever DB challenge, that I kept opening the fridge to look at my little dough balls, just to make sure I wasn't imagining it. :-D
One requirement set by our host was that we had get a photo of ourselves tossing... every picture resulted in a pizza-sized donut. The dough was so tender, I managed to put my fist through the dough every single time.
lol
However, the resulting crust was declared "the best crust EVER" and "no other pizza will ever cross the threshold into my house" by Hubs. He loved it
that
much- I've already had requests to make it into calzones and dessert pizzas. I tried making breadsticks from one of the dough balls and it was simply incredible.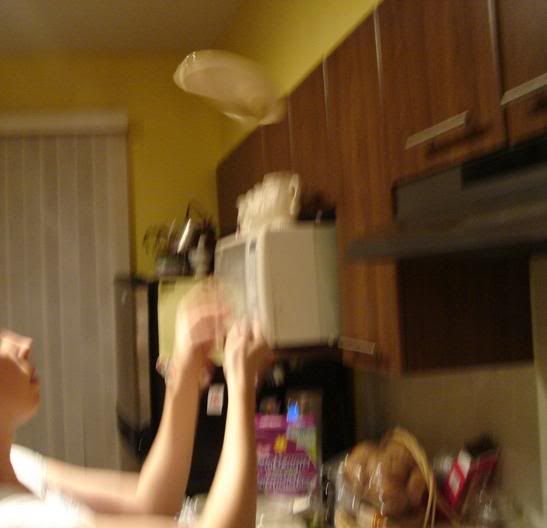 Because Hubs isn't as much of an adventurous eater as I am (i.e. he's the pickiest eater known to man), I made a small pizza all for myself, with a blue cheese bechamel base, topped with ham and green onions. As an after thought I tossed some mozzarella and asiago in the last 2 minutes of baking. This was hands-down one of the best pizzas I've ever had, and the crust was just perfect. You can totally control whether you want a super-thin crust or a super thick crust.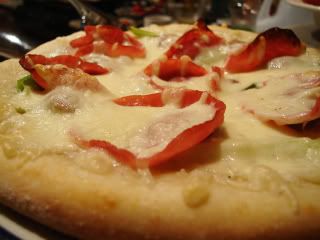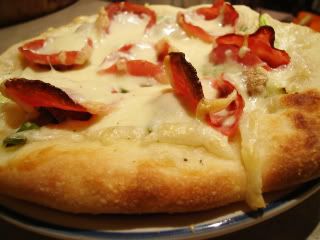 See that little drip of cheese? It was attached to some slightly browned cheese that had dripped on to the baking sheet. I gobbled that right up. I can't be the only person who appreciates slightly overcooked... ok, burned... cheese. I'm not, right? :-D
For Hubs, I made a slightly more traditional pizza, with a little thicker crust, topped with green onions, red peppers, pepperoni, fresh garden tomatoes and mozzarella .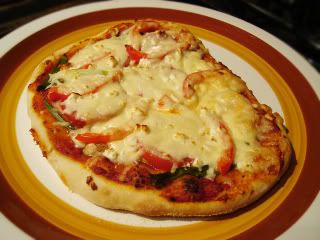 Let's just say there weren't any leftovers for lunch the next day. :-D
If you want to try this pizza recipe (and I *insist* you do- you will
not
regret it), you can check it out on Rosa's blog
blog
. Since I'm still a novice, you should also check out other DB's on the
blogroll
for some great topping ideas and much nicer pictures. :-D
I'm still working on Thanksgiving pictures, and I'm also attempting an old DB challenge (the Danish Braid!), so hopefully, with midterms behind me, these will be posted soon. This is such an addicting habit the only things on my Christmas wishlist are plates, a photobox, proper lighting and a new camera for taking nicer pictures.
lol
Can you tell I'm very ready to be done with school and doing things that have no relation whatsoever? :-D
at 10:19 AM