Thursday, October 30, 2008
Like I said before, I've stalked... er... followed the Daring Bakers' challenges for quite some time. One in particular caught my eye. The June challenge was quite a doozy (or is it doozie?)- Danish Bread. When I saw the bloggers that did this, I was in absolute AWE. I re-thought whether I wanted to join Daring Bakers or not. lol Between the French words "detrempe" for dough and "beurrage" for a butter & flour mix used in the recipe and the amount of TIME this took, I thought I may have gotten in over my head in testing my DB qualifications.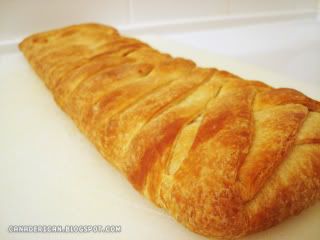 Lo and behold, I made it through all 4 turns... and I made it through the overnight chilling... and I made it through the bazillion rollings... and I made it through the 2 hours of proofing. Both braids were devoured in less than 45 minutes. :-O I made them both savory, so I played with the recipe just a bit. Instead of orange zest and juice, I used lemon for both, since I LOVE lemon with sweet and savory dishes; also scaled the amount of sugar down to about 2 tablespoons and omitted the vanilla flavors completely.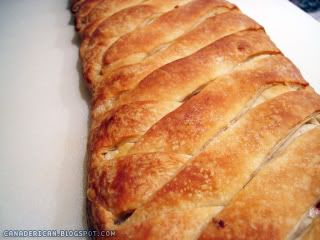 For the fillings, I used some of the roma tomatoes from my last harvest (my poor little tomato plants are finally done), mozzarella, parmesan and Italian seasoning. For the other, garden veggie cream cheese, red bell pepper, arugula and turkey bacon. The only sounds I heard for the 45 minutes while we ate were "Mmmmm....". lol I was instructed to use "Mmmmm" as my only caption.


So for anyone hesitant about joining Daring Bakers or nervous about jumping into a new idea, I suggest just going in head first. If you're feeling as adventurous as I was, check out the DB blogroll, Em's blog or one of my new favorites, Fo-ne-tic-lee Speaking. What can I say? I'm a linguistics minor and a HUGE nerd for anything related to linguistics, so the name tickles me. :-D Both of these wonderful ladies have great photo tutorials and helpful tips.
Fun fact about me: I bake as a procrastination/avoidance mechanism. I've had midterms for the last 2 weeks, plus a paper due, and a presentation next week. Where have I had the time to bake these things? There's a reason I'm just an okay student and not an A+ student like I was in high school. Back then, I just didn't know that I could actually MAKE the things that I'm so addicted to. :-D
at 9:13 PM